Retired Roughrider Don Narcisse speaks up about prostate cancer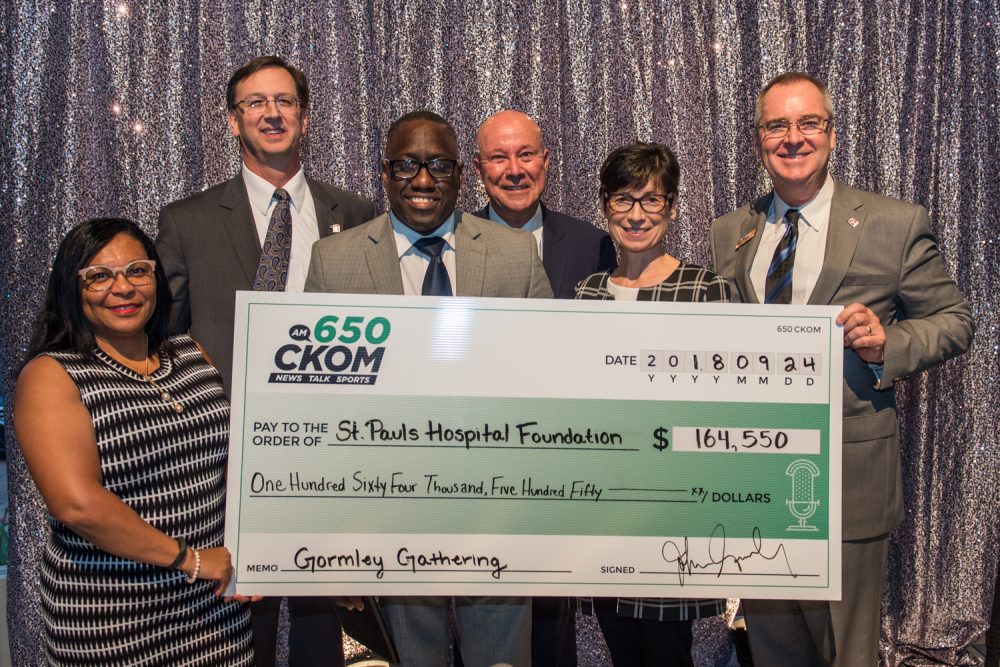 (L-R) Véronique Loewen, Orano Manager Communications; Chris Boychuk, SPH Foundation Board Chair; Don Narcisse, Retired Saskatchewan Roughrider and Prostate Cancer Survivor; John Gormley, 650CKOM radio personality; Karen Barber; SPH Executive Director; Bruce Acton, SPH Foundation CEO.
Retired Roughrider Don Narcisse says his sister inspired him to speak out about his prostate cancer diagnosis.
He found out he had Stage 1 prostate cancer around Christmas 2017. When his siblings heard the news, they came to his house to talk about how they could support him.
"At that moment, it was like, that's what family is all about. It was unbelievable. I didn't know my wife had called my sisters and brothers."
Don's sister had pancreatic cancer 17 years ago and she encouraged Don to speak out about his experience.
"She said, 'Don, let me tell you something. You have got a platform. You need to go on Facebook and tell people what you're going through because they're going to be able to help you out and you're going to be able to help them out.' So the next day, I posted on Facebook that I had prostate cancer."
Speaking up
Don spoke at the Gormley Gathering fund raiser on Sept. 24 about his experience. He said speaking at events like the Gormley Gathering is inspiring for him.
"Having fundraisers like this is tremendous for the families," he said. "Sometimes you might think it's something that's so small but it might be so big for somebody else. You might think you're giving $5 and that $5 is so small but it means the world to those people."
Since he started talking publicly about his diagnosis, people have been reaching out to him to show their support and share their own stories.
"If I wouldn't have done that, I would have been sitting back, holding it inside myself with all this grief."
Some people might be afraid of taking the test to find out if they have prostate cancer and Don said he hopes he can give them courage.
"I tell guys, man, you better get checked!"

Getting answers

Don came to St. Paul's Hospital the day of the Gormley Gathering for a tour of the Leslie and Irene Dubé Urology Centre for Health.
Nicole Baba and Karen Moore are the urology nurse navigators at the centre. They make a point of calling all of their patients within 24 hours to start the conversation about their health care journey.
Don said he was impressed with how quickly the system moves. "They get to the point, getting the answers right away."
He has a long journey of healing ahead of him but he said he has a good group of people around him: His wife Cassandra, who he's been married to for 25 years; his three children and two grandchildren; his siblings; and now the new friends he has made since he announced his diagnosis.