Quilters' creations help bring dignity to end-of-life care at the Hospice at Glengarda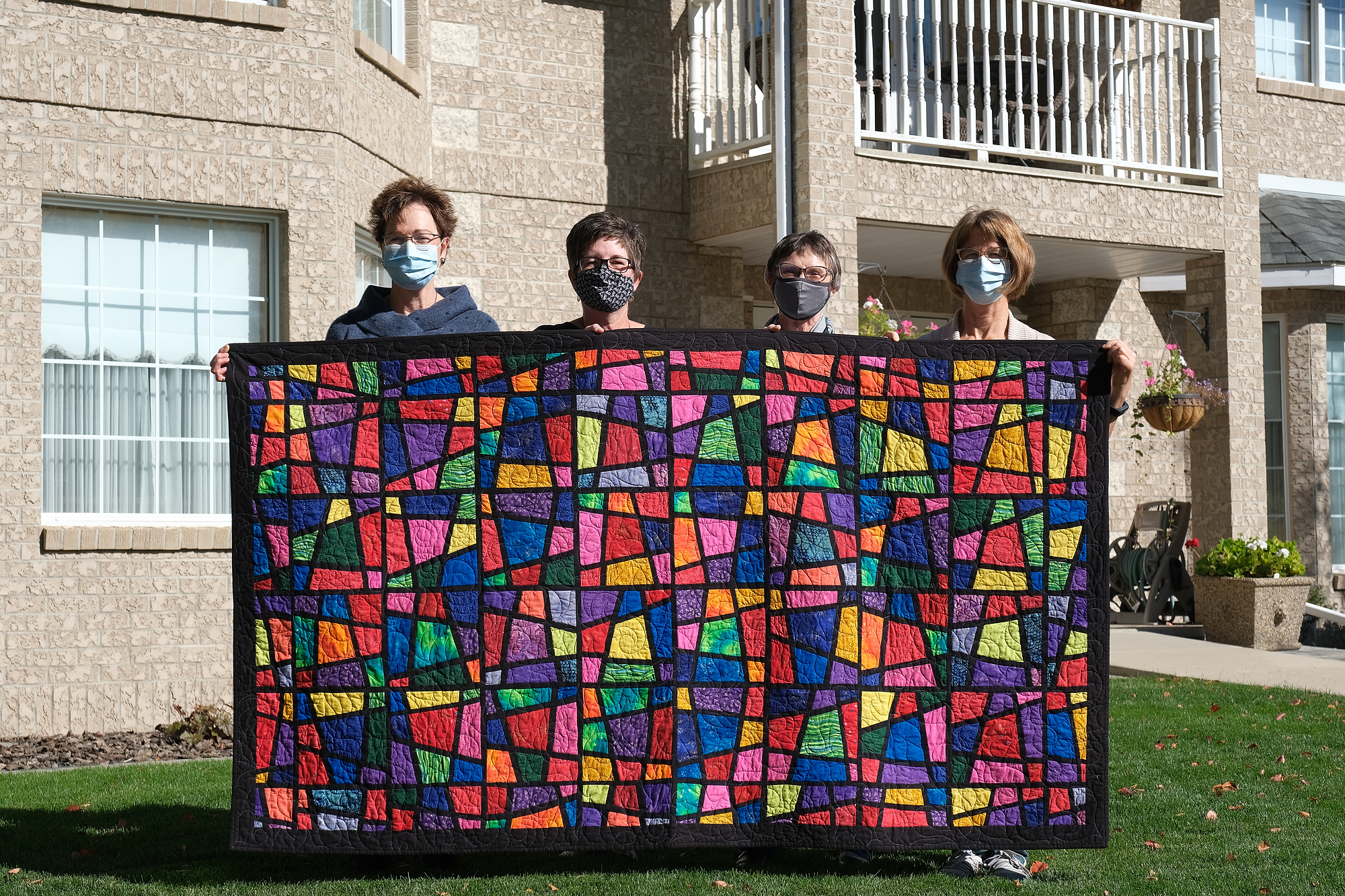 Shari Watson (far left) with her quilting group, displaying one of the dignity quilts they made for the Hospice at Glengarda.
St. Paul's Hospital Foundation board members Arlene Jorgenson and Shari Watson said the first time they heard of a dignity quilt was when the Hospice at Glengarda requested their quilting groups make two for the new hospice.
The dignity quilts are used to lay over those who have passed on, so that they're draped in a beautiful piece of artwork as they leave the Hospice.
"It's a very special quilt," Jorgenson said. "It's very beautiful; it looks like stained glass. You can tell by looking at it that it's a special quilt."
Two such dignity quilts are on display in the Multi-faith Stillness Room on the 5th floor of St. Paul's Hospital.
"It is rich in imagery and the kind of imagery that works no matter what your faith orientation is," Jorgenson said. "It's beautiful and it elevates the whole process. We warmed up to that idea right away."
Jorgenson is a retired nurse as well as an avid quilter. That's one of the reasons why she connected with Shari Watson, who is a nurse in the Intensive Care Unit (ICU) at St. Paul's.
Arlene said it was Shari's idea to make quilts for the Hospice. At the sod-turning ceremony to start construction for the Hospice at Glengarda in May 2019, they figured out who they needed to talk to and got the wheels in motion.
Arlene teaches quilting and she has hosted quilting retreats with the proceeds going to support charities. She sent out an invitation to quilters through her network, and before she knew it, she had groups committing to making 30 quilts.
They found out how big the quilts should be so they fall evenly on each side of the bed, and Shari volunteered her group to make the dignity quilts.
Arlene said she's impressed by how supportive and wonderful the quilting community is. They had quilters donate their wares from Carrot River to Regina.
"It's a community coming together, doing what they can do. And I strongly believe that you just have to let people know how they can help. When you let the quilting community know, they're all over it. They don't want to chair a meeting, they want to quilt. We've given them a tangible way to do that."