Merlis Belsher inspired by granddaughter to donate to Seventh Floor Medicine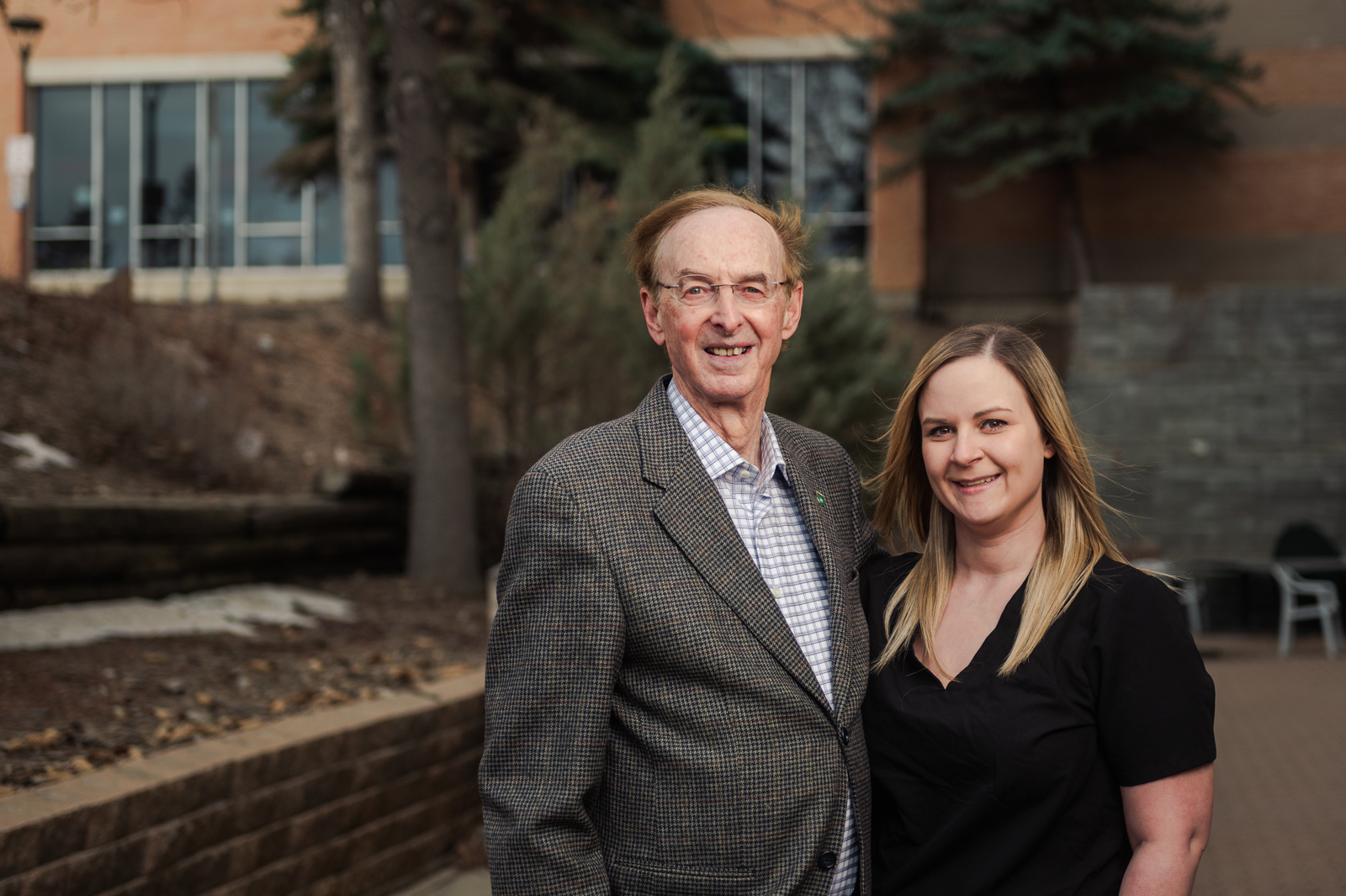 The COVID-19 pandemic has put new pressures on most everyone, and those challenges have been felt even more keenly in Seventh Floor Medicine at St. Paul's Hospital, which has been dedicated to treating those faced with the illness.
Merlis Belsher has a close connection to someone working on that floor — his granddaughter Erin Belsher. In January, he and his granddaughter were chatting about the increased demands on the unit when inspiration struck.
Having had experience working with St. Paul's Hospital Foundation in the past, Merlis reached out to see what could be done to help the unit. Foundation CEO Lecina Hicke then connected with Hospital Executive Director Tracy Muggli and the Seventh Floor Medicine manager to identify and prioritize needs.
After some quick conversations, it was discovered that a number of smaller items had the capacity to make a big difference for the staff and the patients they were caring for on Seventh Medicine.
Inspired by the thoughtfulness of his granddaughter, Merlis generously committed to a $20,000 donation to support the staff and patients of Seventh Floor Medicine.
Cautious to take too much of the credit, Merlis is proud of his granddaughter for wanting to improve staff and patient comfort. "It's my granddaughter Erin, who should get credit for this contribution," Merlis says. "She's the one who noticed the need."
He said both he and his granddaughter want patients to receive the best treatment possible, whether in the initial diagnosis, treatment or in the recovery process. He knows that purchasing this kind of equipment also makes it easier and more efficient for caregivers, doctors and nurses to provide the necessary care.
"It always feels good to be involved with hospital staff in acquiring equipment for patient medical care," Merlis said.
Frontline health care workers recognize patient needs
St. Paul's Hospital Foundation regularly seeks input from health care workers and physicians in identifying needs for the Hospital. For larger initiatives, staff and physicians can apply to the Partners In Excellence program. For smaller initiatives that have no other sources of funding, the Foundation encourages St. Paul's Hospital staff to submit their item requests to the Foundation Draws, which awards $125,000 annually to fund requests that will greatly improve the Hospital experience for patients and their families.
The Foundation also works directly with Hospital leadership and the Saskatchewan Health Authority to advance fundraising initiatives in keeping with overall goals.
"We are indebted to all those involved in front-line care for the many ways they care for patients and their families," Foundation CEO Lecina Hicke says. "We are consistently inspired by how many staff, whether they are frontline caregivers or those in supportive roles like housekeeping or facility management, submit great ideas to improve patient care and experiences."
Hicke says frontline health care workers are often the first to come up with great new ideas for fundraising projects because they are seeing the patients' needs every day, and these needs are only heightened in a pandemic. She says it is through donor support that these ideas often become a reality.
"Many of us know Merlis Belsher from a distance," she says. "Evidence of his generosity is sprinkled in pockets of our community — and throughout our province. I have had the pleasure of knowing Merlis personally for many years, and what I have always been grateful for was his true and sincere interest in helping. Merlis isn't just interested in making a gift; he is interested in making a difference. We are very grateful to both Erin and Merlis for recognizing the needs of those most vulnerable in our midst, and providing the support to ensure those needs are thoughtfully met."
The $20,000 gift will support the purchase of equipment and comfort care items, including a floor lift, two specialized Broda wheelchairs, a sleep chair, and a new couch. The patient lift helps both the patients and the staff because injuries can happen among staff when they are moving patients. The Broda specialized wheelchairs provide supportive positioning for patients, allowing health care providers to tilt, recline and adjust various points of the chair to support patients of all sizes and health circumstances.