Story Posted: 2017-09-26
Gormley Gathering Reception Raises More Than $1M in Support of Urological Health at St. Paul's Hospital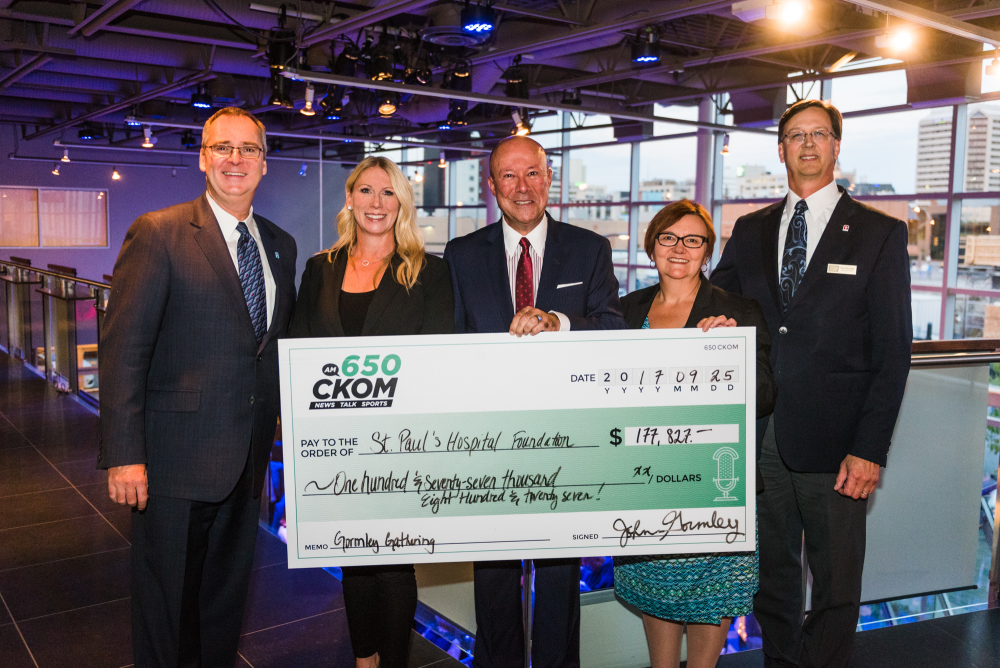 (l-r) Bruce Acton, SPH Foundation CEO; Tammy Van Lambalgen, Vice President, Corporate Affairs & General Counsel for AREVA Resources; John Gormley, 650 CKOM radio host and celebrity; Jean Morrison, St. Paul's Hospital President and CEO; and Chris Boychuk, SPH Foundation Board Chair receive the the 2017 Gormley Gathering proceeds.
650 CKOM radio personality John Gormley hosted the annual Gormley Gathering reception in support of urological health at St. Paul's Hospital in Saskatoon. Through the generosity of our donors, this year's event, presented by AREVA raised $177,827 surpassing $1 Million dollars raised since it began.
This year's proceeds will support the purchase of a GreenLight Laser XPS and advance patient education and post-prostatectomy programming at the Leslie and Irene Dubé Urology Centre of Health, furthering the highest standard of care for urology patients.
"We are blessed with a multitude of donors who are passionate about improving care for patients living with urological illnesses," said Chris Boychuk, Board Chair of St. Paul's Hospital Foundation. "This is a huge investment from our community, and we are very grateful. We also would like to acknowledge John Gormley and all the staff at Rawlco Radio, who work so hard each year to host this event."
The reception was held on September 25 in Saskatoon and featured delectable appetizers by local celebrity chef Dale MacKay. Outside of ticket sales and donations, major gifts included: $25,000 from presenting sponsor AREVA Resources; $34,000 from Glenn Wig; $25,000 from Gordon and Jill Rawlinson; $20,000 from Robert and Sandra Stromberg; $14,500 from Smiley's Night for Life; $10,000 from Neufeld Charitable Foundation; $5,000 from The Canadian Progress Club, Saskatoon Downtown; $5,000 from Ron Ritchie Real Estate; $5,000 from Greg Keller; $5,000 from Lyle and Arlene Zdunich and $5,000 from Ronan Conlon. We are deeply grateful.
The Leslie and Irene Dubé Urology Centre of Health at St. Paul's Hospital provides important resources and state-of-the-art equipment for men and women suffering from a wide range of urological diseases, including bladder cancer and prostate cancer. The Centre also provides patient education as well as incorporating a nurse navigator to serve as a patient advocate and liaison between health care providers and patients who need help finding their way through the health care system.