Story Posted: 2017-12-04
A Day In the Life of the Hospital's Writer-in-Residence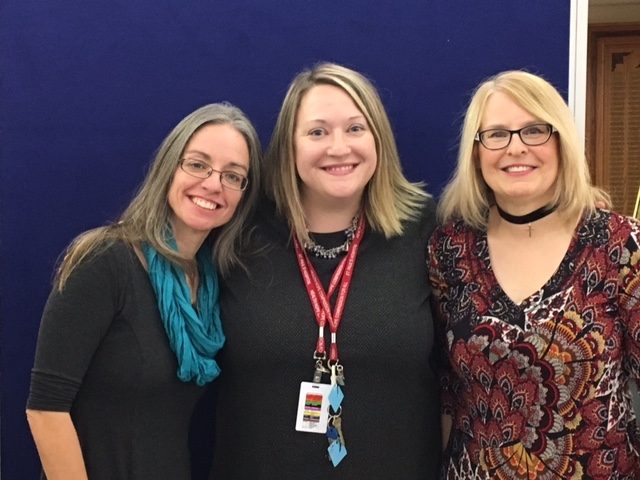 Writer Danica Lorer with SPH Writer in Residence Kristine Scarrow and writer Sally Meadows at St. Paul's Hospital on Author Day!
"Everybody has a story…they just may need a little help in telling it!"
Kristine Scarrow is the Writer-In-Residence at St. Paul's Hospital, and she describes her work as all about learning what she can do to make a patient's stay better.
Together with the Artist-In-Residence and the Music Therapists, Kristine is part of a team of people who help patients and families heal through the arts, collaboratively known as the Healing Arts Program at St. Paul's Hospital.
"Many patients tell me that they don't write or aren't writers, but everybody has a story. I find they just need a little help in telling it," says Kristine. She says that sometimes that help is as simple as giving people a nugget of information, or a starting point for their stories.
"Engaging in writing is healing and can be very therapeutic," says Kristine, who works with patients at their bedside or in common areas of the hospital. "Whether it's creative writing or working on memoirs, we try to find ways to help people explore the areas that interest them."
Some patients prefer to get help with their storytelling skills, while others are more interested in poetry or writing their personal stories. Some have asked Kristine to help write letters or make cards for loved ones, and others have asked her to simply read to them. She says: "Each person's situation and desire is different, and I try to accommodate their needs and preferences."
Kristine's work is not limited to patient care - she also works to connect the hospital with its community. She recently coordinated "Author's Day" at St. Paul's Hospital, a literacy event that occurred on November 15th to help celebrate two writers in our community: Sally Meadows and Danica Lorer, who were there to share their writing experiences. She is also currently teaching a four-week journaling workshop that usually draws a range of students including: staff, patients, and the general public. Each class builds upon the previous, and by the end of the workshop everyone has completed the course workbook and has learned 18 different journaling techniques, along with the science behind those techniques.
Kristine says that although she assists patients by helping to distract them from illness and their current challenges, she is the one left with a far bigger gift: "It's an absolute honour to be able to connect with patients and have them share a bit about their lives with me."
If you would like to make a gift in support of the Healing Arts Program at St. Paul's Hospital, please contact the Foundation office at 655 5821 or donate online now.