Franki's Story – My Christmas wish is for a 2D Echo Cardiac Machine for St. Paul's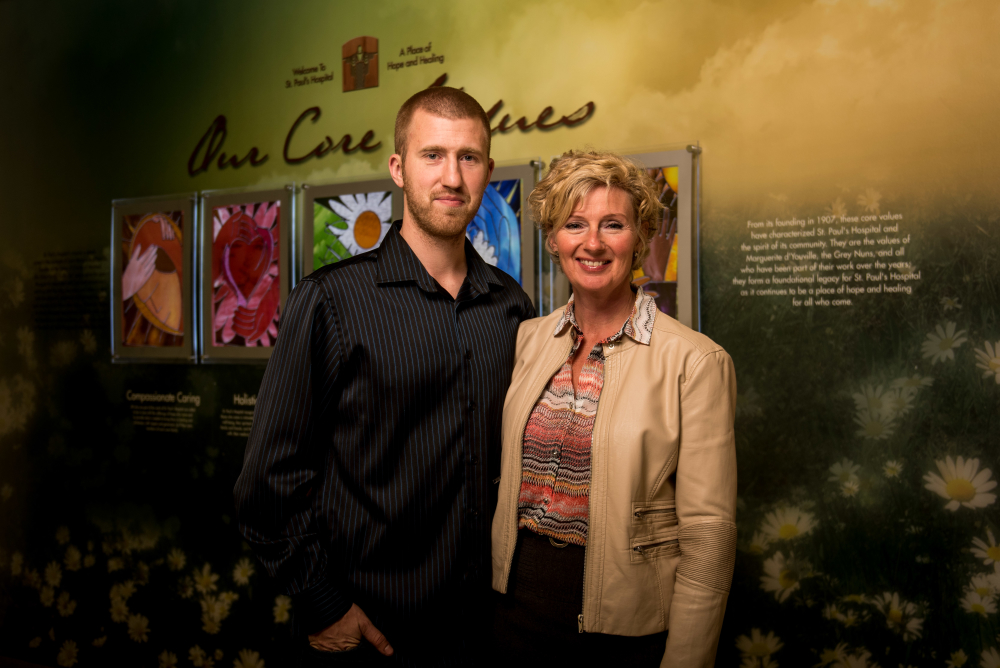 Franki Stuart and her son Curt Deptuch
Mrs. Brayshaw used to chide me for wearing a sweater at work. "If you're cold, you're just not working hard enough!", she'd say matter-of-factly. Mrs. Brayshaw was my first head nurse and I'm proud to have been one of "Mrs. Brayshaw's nurses". She taught me that no matter what, my patient's health always comes first. She also instilled a deep love of St. Paul's Hospital in me and helped me become part of the family here.
A few years back, though, it finally became obvious to me that no matter how hard I worked, no matter how much I cared, no matter how good I was at my job, I'd have to give up nursing. And I'd have to give up my second family at St. Paul's. My eyes still well up when I think about it.
You see, I have a genetic heart condition called cardiomyopathy. It became critical that I stop working and take care of my heart. I decided to retire after working as a nurse since the 1980s. It was the hardest decision I ever made. But I try to stay committed to St. Paul's by being a volunteer and a donor.
This year, St. Paul's is raising money to buy a very important piece of equipment – a new 2D Echo Cardiac Machine. I decided to support this cause by telling my story, and in the hopes that it would inspire others to support the cause.
A 2D Echo Cardiac Machine takes an ultrasound of patients' hearts and the new model will provide clearer images, with twice as much clinical information in the same amount of time, as the machine we currently have. This means early diagnosis for anxious patients with a heart problem!
There's really no time to lose. So many people need this machine to ease the distress and uncertainty that heart conditions cause. More than 1300 patients that rely on St. Paul's Heart Health Program each year. Take it from me. As a nurse who worked with hundreds of cardiac patients, I know how important this equipment is!
Ensuring this essential tool is available at St. Paul's is even more personal – and more urgent – for me. My 26-year old son has the same genetic heart condition I do. He lives in Saskatoon too and sometimes needs to visit St. Paul's emergency department. I'll sleep so much better at night, knowing that St Paul's has the equipment they need to help him.
That's why my Christmas wish is for a 2D Echo Cardiac machine to give patients like my son a non-invasive, pain-free and instant picture of how their heart is working.
Please, consider giving a meaningful Christmas gift to help buy this urgently needed piece of medical equipment as soon as possible. Your gift will help give our doctors and nurses and incredibly versatile tool to help patients from young to old; with conditions ranging from cancer to kidney failure to heart disease. You will also be sharing an incredible gift with me – peace of mind.
Wishing you a blessed Christmas,
Franki Stuart, Retired RN, patient, volunteer and donor
---
If you would like to give a gift in support of the 2D Echo Cardiagram, Contact the Annual Giving Manager at St. Paul's Hospital Foundation at 306-655-5835 or <donate online> today.