St. Paul's Hospital Foundation
St. Paul's Hospital Foundation believes in the power of generosity to save and change lives.
Founded in 1982, St. Paul's Hospital Foundation is a registered charity that raises, manages and allocates funds in support of St. Paul's Hospital and the Hospice at Glengarda.
Charitable Registration #: BN 11919 5691 RR0001.
SPH Foundation Recovery of Fund Raising Costs Policy
Hours: Monday to Friday 8:00 am to 4:00 pm
Tel: 306-655-5821 | Toll free: 1-888-345-0330 | info@sphfoundation.org
---
#GIVINGTUESDAY – COLD HANDS WARM HEARTS
November 29, 2022
On #GivingTuesday your donation to Cold Hands Warm Hearts, sponsored by Cameco, will help purchase toques, mittens, socks and hand warmers during winter.
These indispensable clothing items allow our Hospital to ensure that those we treat are dressed for the weather when they leave our care.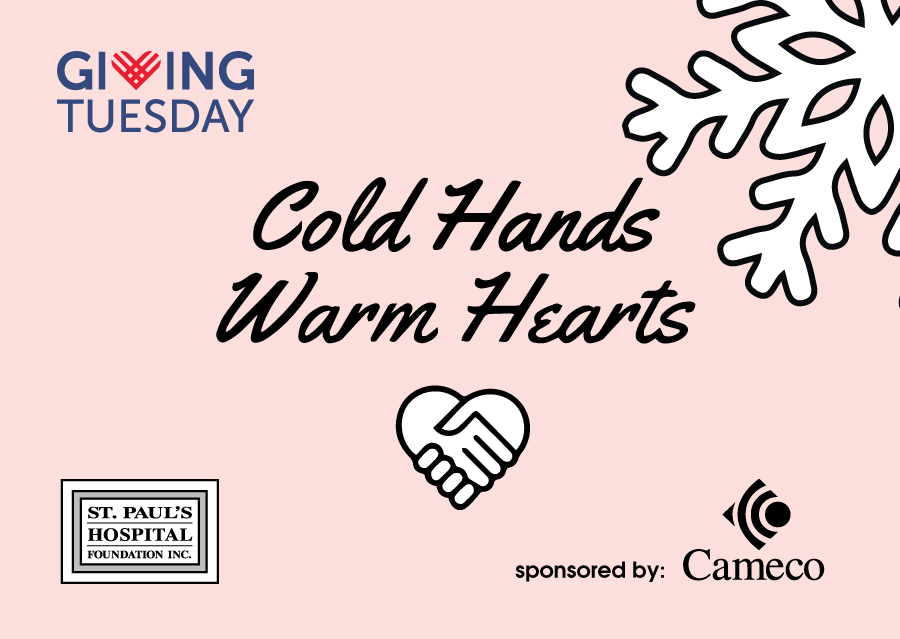 Give Generously. Donate to Cold Hands Warm Hearts.
---
The Mistletoe Ball and Baskets are back!
---
Spirit Newsletter
Our Spirit Newsletter is produced annually in the fall, sharing information regarding hospital news, technology and program initiatives, along with inspiring stories of donor generosity, and Foundation and Hospital activities. Click on the image for the current issue of the Spirit Newsletter or visit the Spirit Newsletter Archives.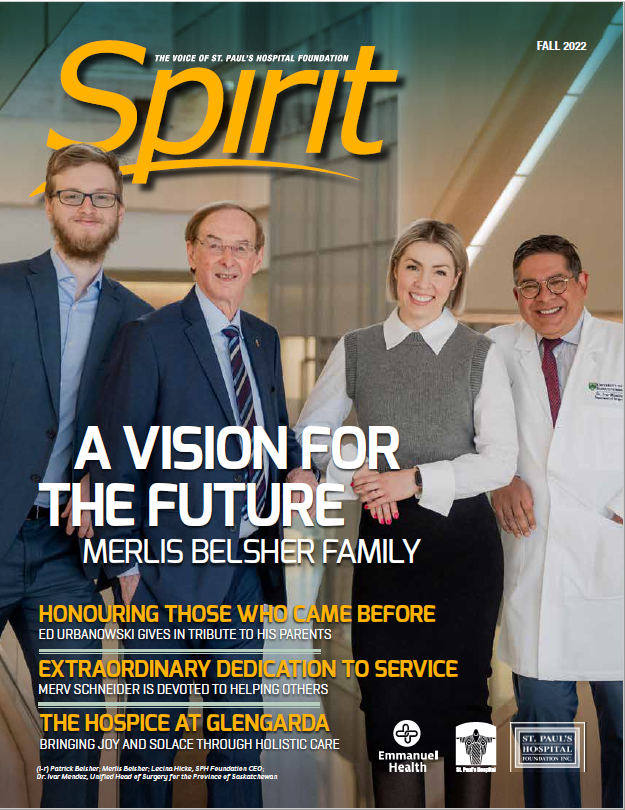 ---
Annual Review
The Annual Review is a joint publication of St. Paul's Hospital and SPH Foundation offering a comprehensive overview of the year at St. Paul's Hospital - from a detailed service analysis; accomplishments attained along with plans for the future; to analyzing the success of the Foundation including specifics regarding annual funding allocations. Click on the image for the current issue of the Annual Review or visit the Annual Review Archives.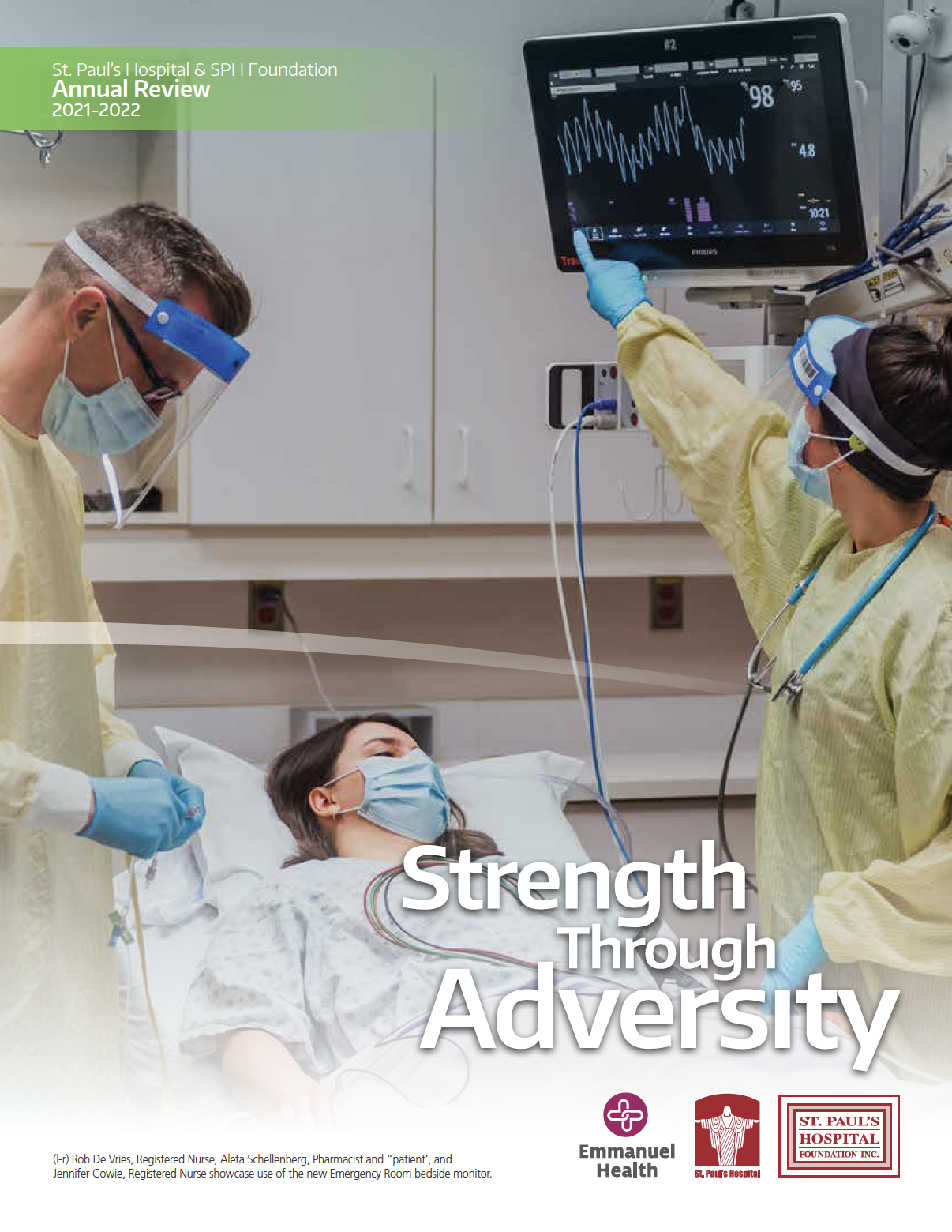 ---
$1M Donation Launches Fundraising Campaign to Bring First Surgical Robot to Saskatchewan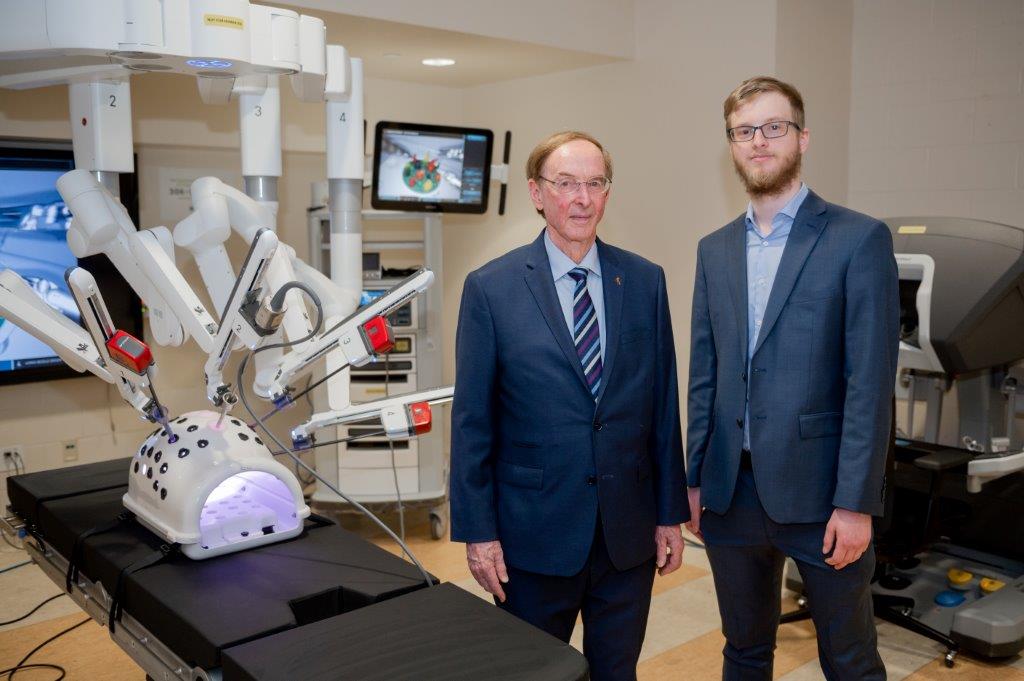 (l-r) Merlis and Patrick Belsher at a demonstration of the DaVinci surgical robot.
We are pleased to announce an astounding $1 million gift from the Merlis Belsher Family along with an additional matched gift of up to $100,000 to help inspire our community to support the project and bring the first surgical robot to our Hospital.
The remarkable $1 million donation from the Merlis Belsher Family has changed the trajectory of the fundraising campaign, and it i sour hope that the first robot-assisted procedure will be performed in the fall of 2022.
The surgical robot will revolutionize surgery for thousands of patients, providing surgeons with the capacity to perform less invasive surgeries resulting in reduced blood loss, less pain, and shorter recovery times, ultimately allowing for more surgeries to be performed. The da Vinci surgical system is a console of surgical instruments guided remotely by the surgeon. The movements of the surgeon are translated through the sensitive fibers of the machine with precision to perform minimally invasive laparoscopic surgery. This robotic surgical system will be the first of its kind in Saskatchewan, and marks the introduction of a Robotic Surgical Program to the province.
SPH Foundation CEO Lecina Hicke says the Belsher family's gift will have far-reaching support in patients' health care journey. "For as long as I have known Merlis, I have known him to be a man of great vision and humility. The Merlis Belsher Family's support of our province's first surgical robot is not only a remarkable gift to our Hospital and its many dedicated health care providers, it is a truly meaningful gift to our community, promising better patient experiences and outcomes while supporting the growth and advancement of our surgical programs and specialties."
Mr. Belsher says it's important to ensure doctors have the best technology available. "The surgical robot is a win for everybody. A less invasive surgery means a quicker recovery and less time in the Hospital. It will recruit doctors who are familiar with using this machine and retain the doctors we have here. I hope others are inspired to bring more technological advances to our health care system."
St. Paul's Hospital Foundation has committed to raising $1.5 million for the robot. The cost of purchasing this robotic system is approximately $2.5 million and the Ministry of Health will contribute up to $1 million to fund the purchase, and will cover annual operational expenses.
St. Paul's Hospital Executive Director Tracy Muggli says "This type of equipment advances one of the key Emmanuel Health values of innovation to boldly lead the way with courage, continuously improving and advancing creative solutions. This modern technology not only supports patients with enhanced care, it will also result in quicker recovery and shorter lengths of stay in our hospital, which means more people will be able to access timely hospital care."
You can help bring this important equipment to our province!
Donate online now or call our office at 306.655.5821.
---
Hospice and End-of-Life Care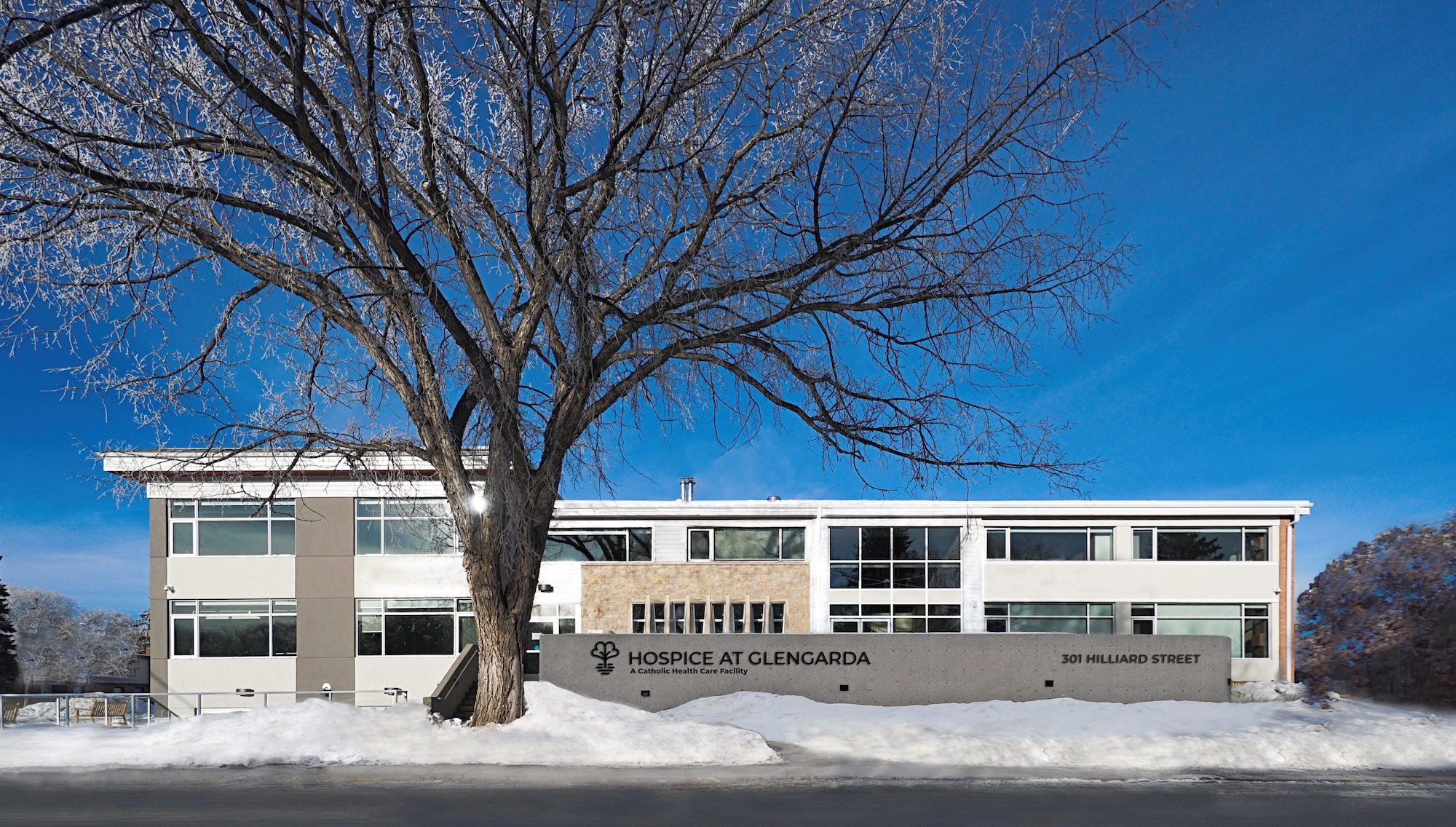 Support End-of-Life Care at the Hospice at Glengarda and St. Paul's Hospital's Palliative Care Unit.
We know that government funding will cover clinical needs, but also understand that it simply will not provide support for comprehensive and compassionate holistic care programming for patients and families, nor any of the extra amenities that can truly contribute to a home-like patient and family experience. The Hospice at Glengarda will continue to rely on our community to support positive patient and family experiences as well as a broadly defined scope of holistic care programming, which encompasses mission, spiritual care, healing arts, and volunteer programming.
There are countless small touches that will create a home-like environment and experience for patients and families, things that would typically be part of what families would have in their own homes to create a warm and comforting space. It is our goal to provide patients and families with amenities at no cost, to have the hospice experience as Close to Home as possible.
You can help by donating to the following end-of-life-care funds:
Giving Light for Palliative and Hospice Care: You can help bring a Vocera System to the Hospital's Palliative Care Unit and support the Comfort Care fund at the Hospice at Glengarda. Make a gift today and philanthropists Utsang and Khyati Desai will match every dollar you donate to a maximum of $25,000. Click to read more
The Comfort Care Fund: ensuring Holistic Care staff support and resources and comfort items to support the patient and family experience
Palliative Care Education Fund: Responsive and sensitive end-of-life care requires specialized training for all staff and volunteers who will be involved with patients and families in the Hospice and the Hospital's Palliative Care Unit.
Facility Fund: serving capital and building services needs.
For more information, contact our office at 306.655.5821.
---
Healing Arts Program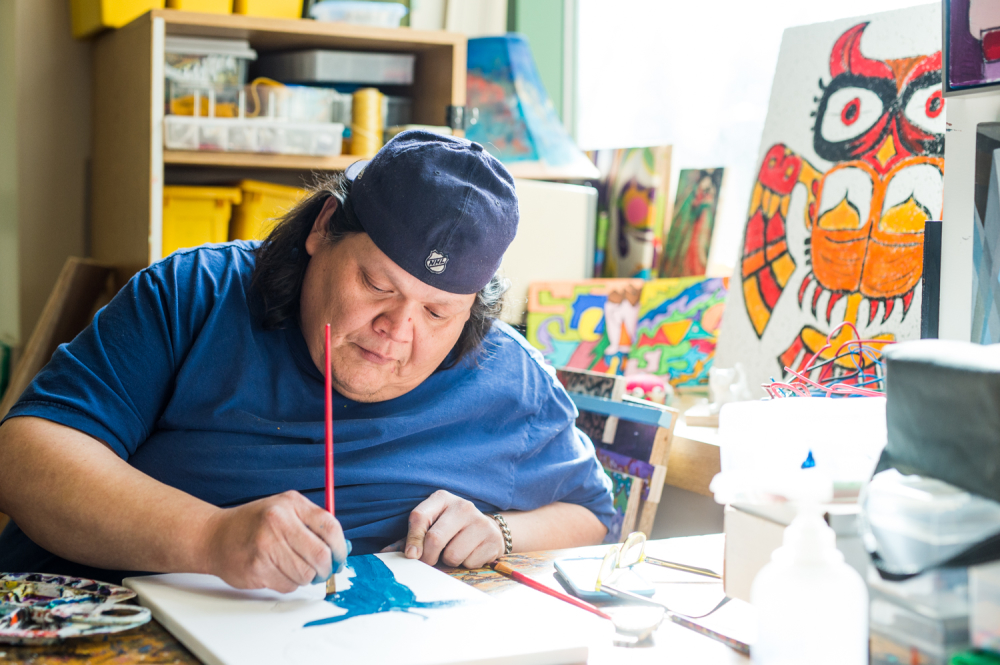 Help advance the Healing Arts Program at St. Paul's Hospital.
Learn more about the Healing Arts Program.
---
Spiritual Care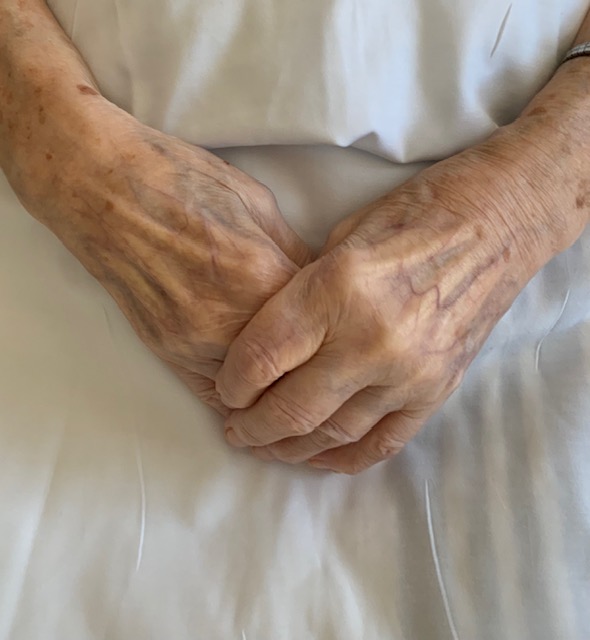 Support Holistic CareSupport the Spiritual Care Program at St. Paul's Hospital. Learn more about the Spiritual Care Program.
---
Be A Bob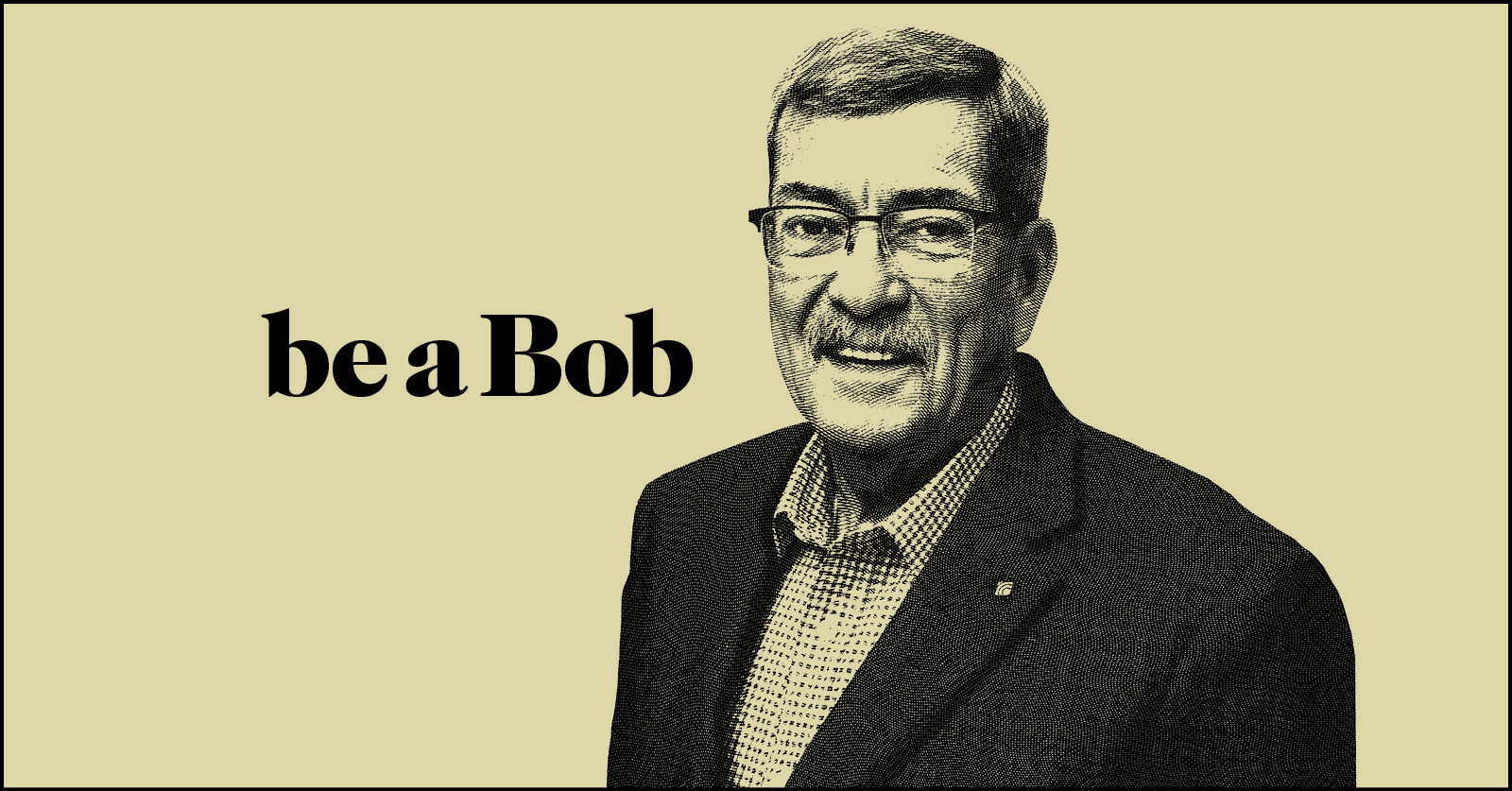 Be a Bob Campaign
Have you thought about the legacy you will leave behind. Be a Bob! Follow Bob's example and volunteer, donate, or make a gift in your Will!
Learn more about the Robert Steane – and be inspired to Be a Bob!