Grateful Patient Pays it Forward — Buys Vein Viewer for the Hospital Unit She Stayed In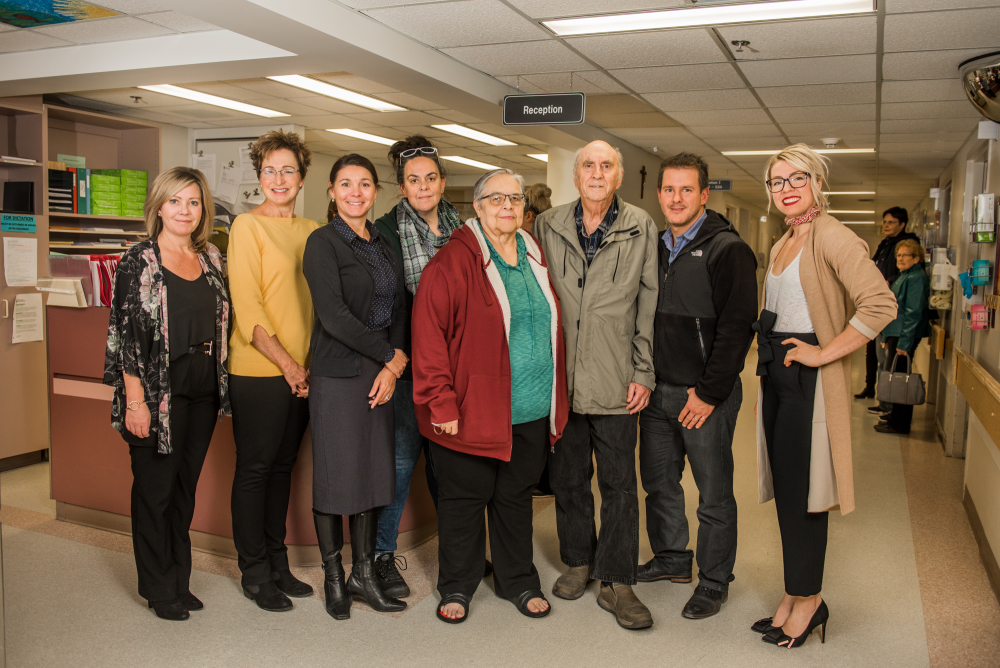 (l-r) Nurse Manager Susan Foss, SPH Foundation Board Member Shari Watson, SPH Foundation Major Gifts Officer Wendy Comeau Greenwood with donors Erin Haffermehl, Karen Haffermehl, Bill Haffermehl, Evan Zuk and SPH Foundation CEO Lecina Hicke.
Karen Haffermehl doesn't consider herself a philanthropist. She was simply so grateful for the care she received during her stay at St. Paul's Hospital that she wanted to give back.
"The nurses were so wonderful and pleasant and happy and made my stay very nice," Karen said. "So I interviewed everyone who was working and asked them what they would like to have in the ward."
There were many different answers but the one that struck a chord with her most was the request for a vein viewer. "With a vein viewer, they could find my vein next time!" she said.
She contacted Nurse Manager Susan Foss, who connected her with SPH Foundation so Karen could arrange a gift of $25,000 to purchase a vein viewer for the 5th floor Medicine Unit.
"It was a huge surprise," Susan said. "I was brought to tears. I was so touched by the generosity of Karen and her family. Both myself and my staff have been so incredibly thankful and touched and I don't think we would have ever expected to be given a gift like this."
The vein viewer was something that 5th Floor Medicine has wanted for a long time, Susan said. The device helps find difficult veins when starting IV access by shining a light on the skin's surface that reflects off hemoglobin in the vein below.
"We start a lot of IVs in the unit and any time we can reduce the number of attempts we have to make — to preserve the veins, to maintain a patient's comfort — is so important."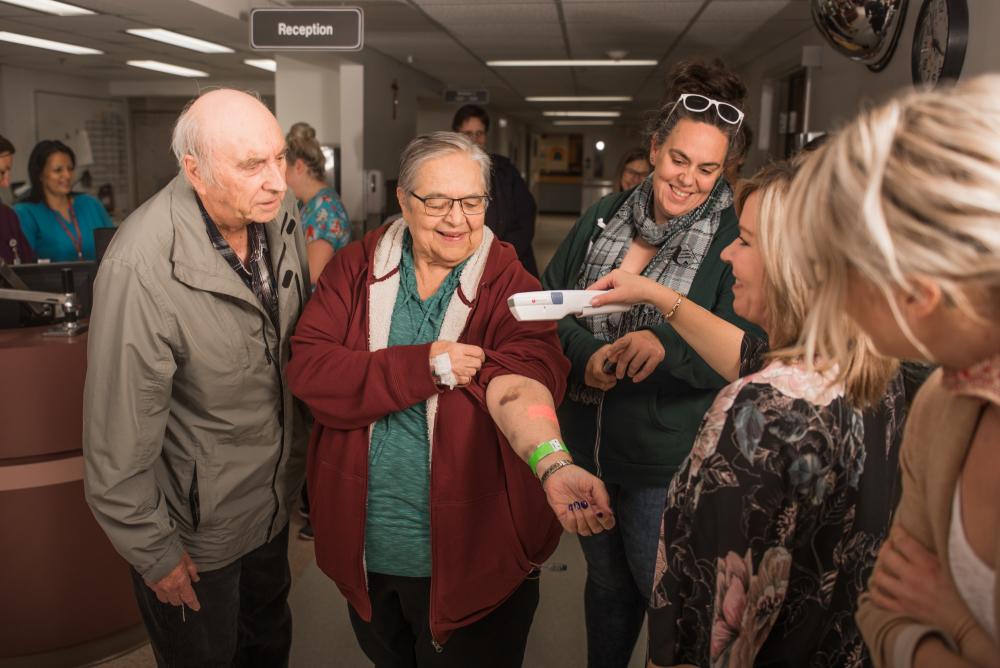 (l-r) Nurse Manager Susan Foss shows donor Karen Haffermehl and family how a vein viewer works.
Karen wanted to be there for the announcement so she could express her gratitude and share the news with the staff. The Foundation organized the announcement and the nurse and staff arranged for cake and flowers to be sent to the floor.
Surrounded by family, friends and Hospital staff, Karen and her husband Bill were able to share their gratitude for Karen's care with the announcement of their gift. The staff were excited to learn that they would receive such a gift and the atmosphere was celebratory.
"From my perspective, I received a gift from both sides," said SPH Foundation Major Gifts Officer Wendy Comeau Greenwood. "I experienced Karen's gratitude for giving, and I experienced the nurses being so excited and thrilled with the gift. It was so wonderful to be a part of that."
The gift came from the Haffermehl family and at the event, Karen's husband Bill noted that while the vein viewer would benefit Karen, the gift wasn't just for one patient but to help so many more patients, and to help the staff.
"I believe what goes around comes around," Karen said. "The more you give, the more you receive, so you should pay it forward and do unto others as you would have them do unto you."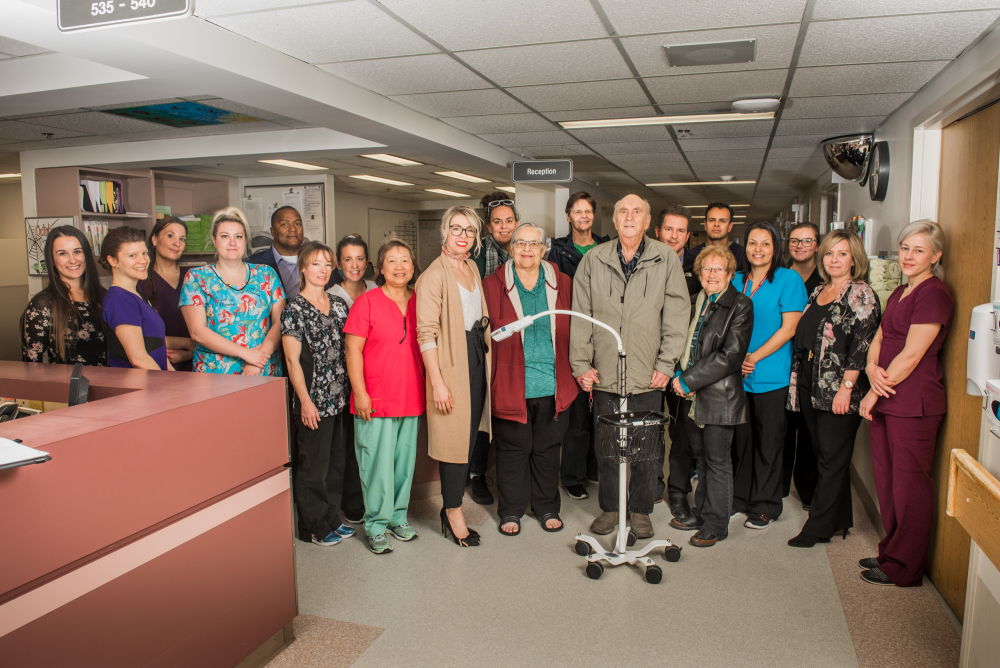 St. Paul's Hospital and Foundation employees surround the Haffermehl family in gratitude for their donation.