New Research Chair at St. Paul's Hospital making advancements in holistic care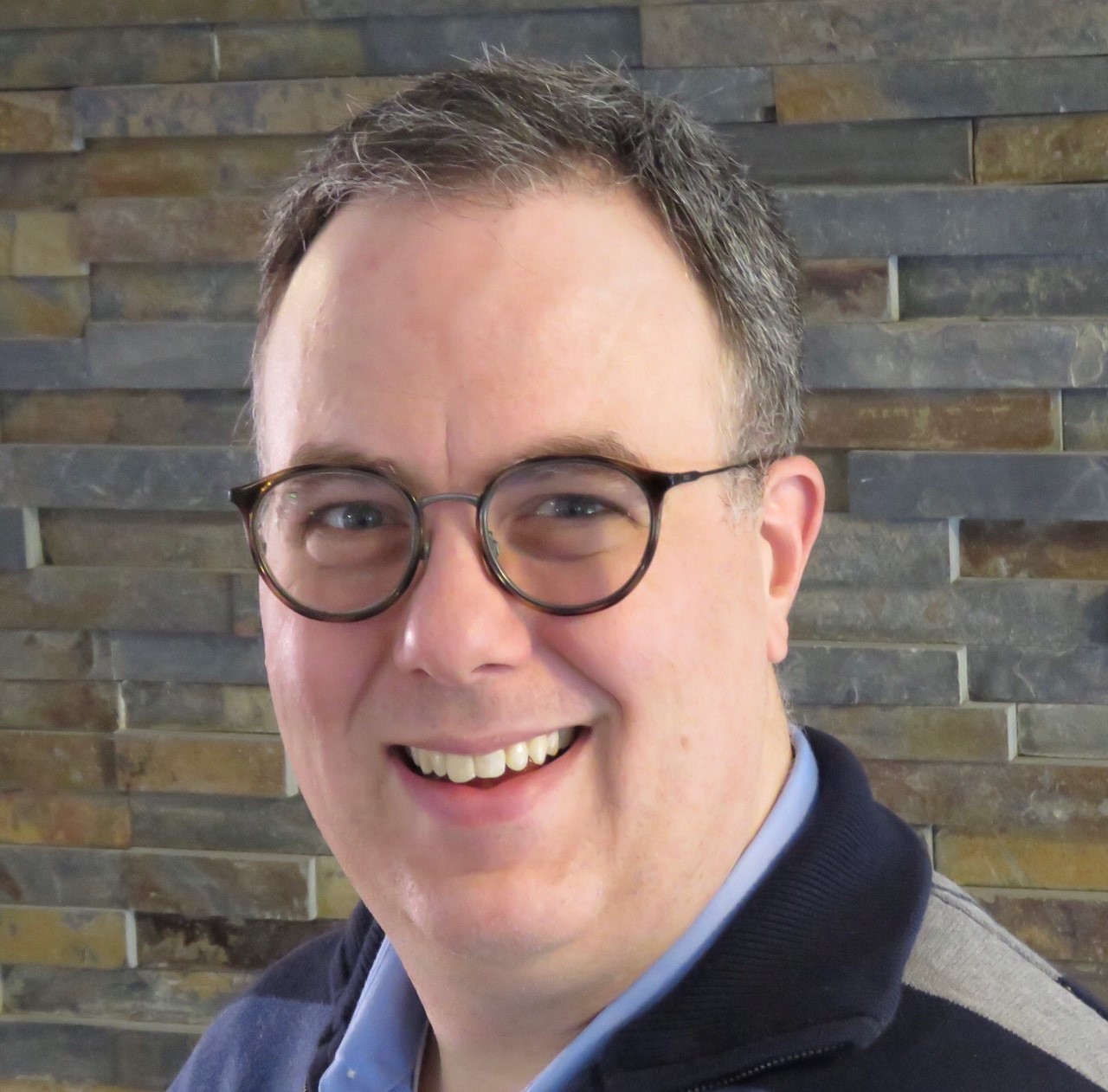 Spiritual care practitioner Simon Lasair says there's an increasing trend of patients reporting their experience in health care as "dehumanizing and alienating," and he's on a mission to understand how to change that.
"A big push in health care research is to learn how we can counterbalance those experiences that are increasingly being reported."
Simon is the newly appointed Robert Steane Holistic Research Chair at St. Paul's Hospital. In this new role funded by the estate of Robert "Bob" Steane, he'll be researching how best to integrate Spiritual Care and the Healing Arts into the frontline health care.
The healing arts team consists of an artist-in-residence, a writer-in-residence, and two music therapists. Spiritual care consists of professionals who in other jurisdictions are called chaplains. All together, these professionals make up what's known as holistic care.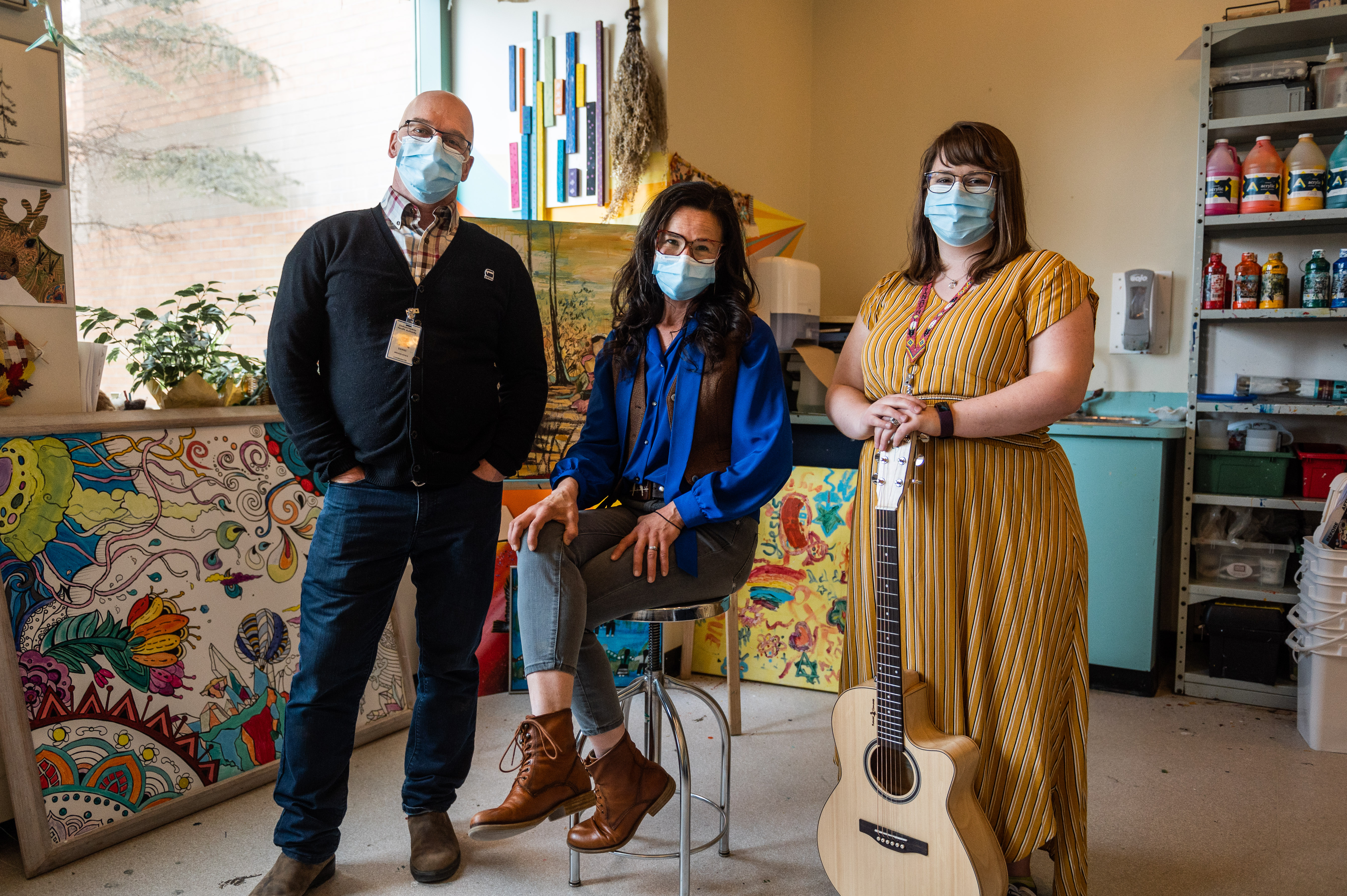 From left to right: Writer-in-Residence Daniel MacDonald, Artist-in-Residence Marlessa Wesolowski, and Music Therapist Tinaya Entz.
Holistic care practitioners have known for decades that there are a multitude of benefits that result from the care they provide, and recently, there's been the desire to have greater research to back up those claims.
Simon said. "There's a growing body of evidence that art therapy in health care is a good thing. When healing arts are part of health care, patients' emotional well-being and their ability to engage with the medical care they're receiving is increased because their spirits have been lifted."
But what is the best practice in integrating that care into the frontlines, and how can we craft a framework so that all professionals understand its importance?
These are the types of questions Simon is hoping to answer with his research.
"What I see as a major piece of this research is working with the healing arts and spiritual care teams as well as with some of the teams on the frontlines to build a vocabulary and a joint framework for the sake of ensuring that we're all on the same page and we're working together in the most effective way possible."
Contributing to a growing body of literature
Simon began his career as an academic, receiving a doctorate from the University of Manchester in the U.K. studying ancient Jewish texts. He says he "stumbled into" spiritual care when looking for a career change — he had an interest in counselling, having worked as a crisis line volunteer for the Saskatoon Sexual Assault Crisis Line, and spiritual care brought together his interests in counselling and religion. He received the training he needed and was certified with the Canadian Association for Spiritual Care, and then held a number of frontline spiritual care roles.
All along the way, he was publishing academic articles on the topic of spiritual care.
"I felt the need to contribute to that growing body of literature," he said.
He said he was keen to investigate best practices with spiritual care, and St. Paul's Hospital is the place to do that because it's the only Hospital in the province with a spiritual care program. So a few years ago, he approached Leah Perrault, the Director of Mission at the time who strongly supported focusing research on both the healing arts and spiritual care.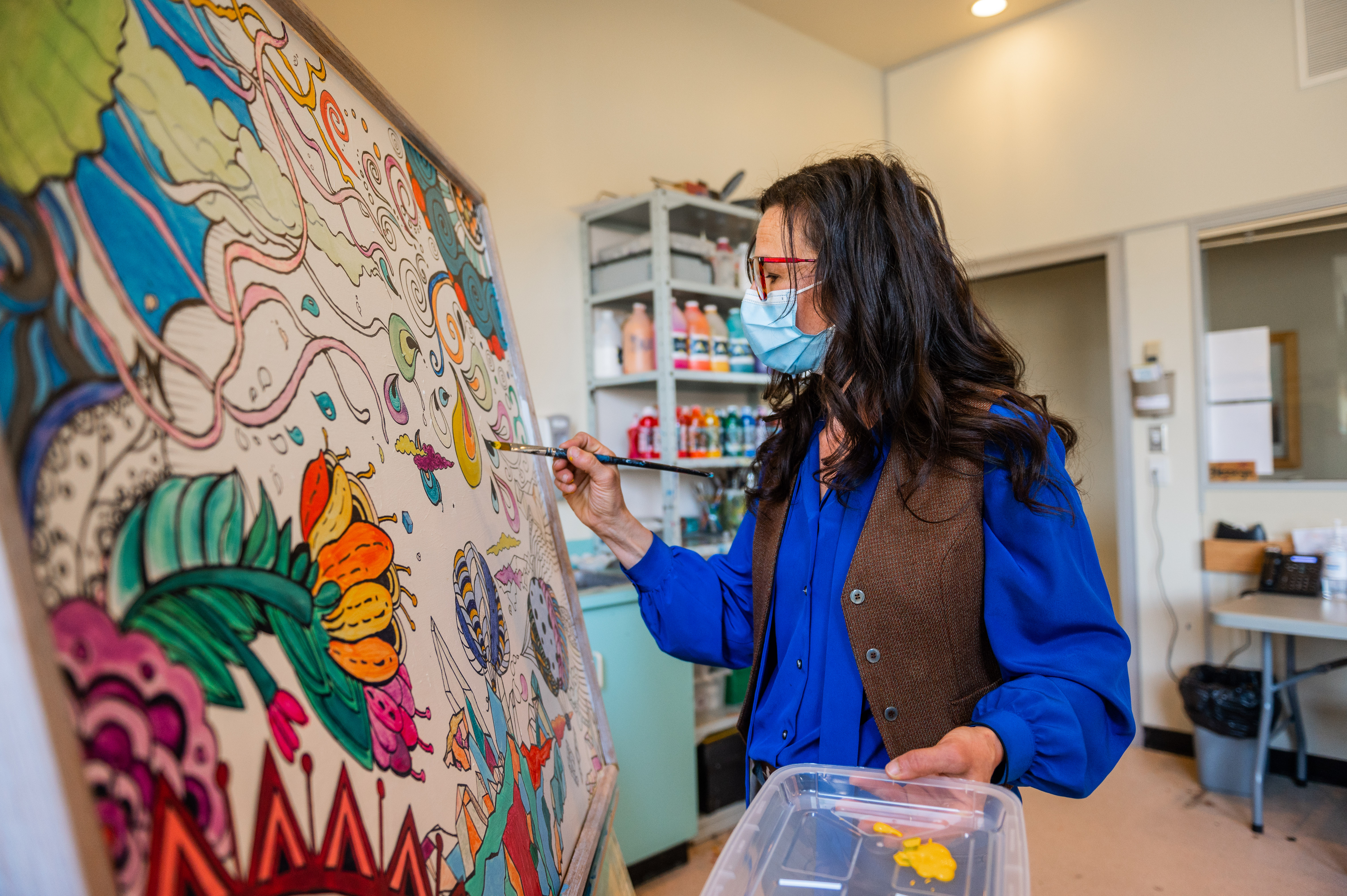 SPH Artist-in-Residence Marlessa Wesolowski at work in the Healing Arts Studio.
St. Paul's Hospital Foundation provided a research grant for an initial study that helped Simon determine what direction his larger study should take. That work was completed in January 2020. He says Foundation CEO Lecina Hicke also helped find funding for further research.
He says that while he brought forward the idea, it was people like Leah and Lecina who made the idea into reality.
"Leah was the one who fleshed out the vision and championed it to the Foundation, and Lecina was the one who did the in-depth work connecting the mission of this project with similarly invested and interested supporters of the Foundation," Simon said.
SPH Foundation CEO Lecina Hicke says this work will challenge the Hospital to reimagine and refine its focus on providing patient-focused, holistic care.
"The Robert Steane Holistic Research Chair will not only serve to help us improve the impact and functionality of holistic care services within our Hospital, it will directly deliver the hope and intention of the remarkable generosity of the late Robert Steane," she said.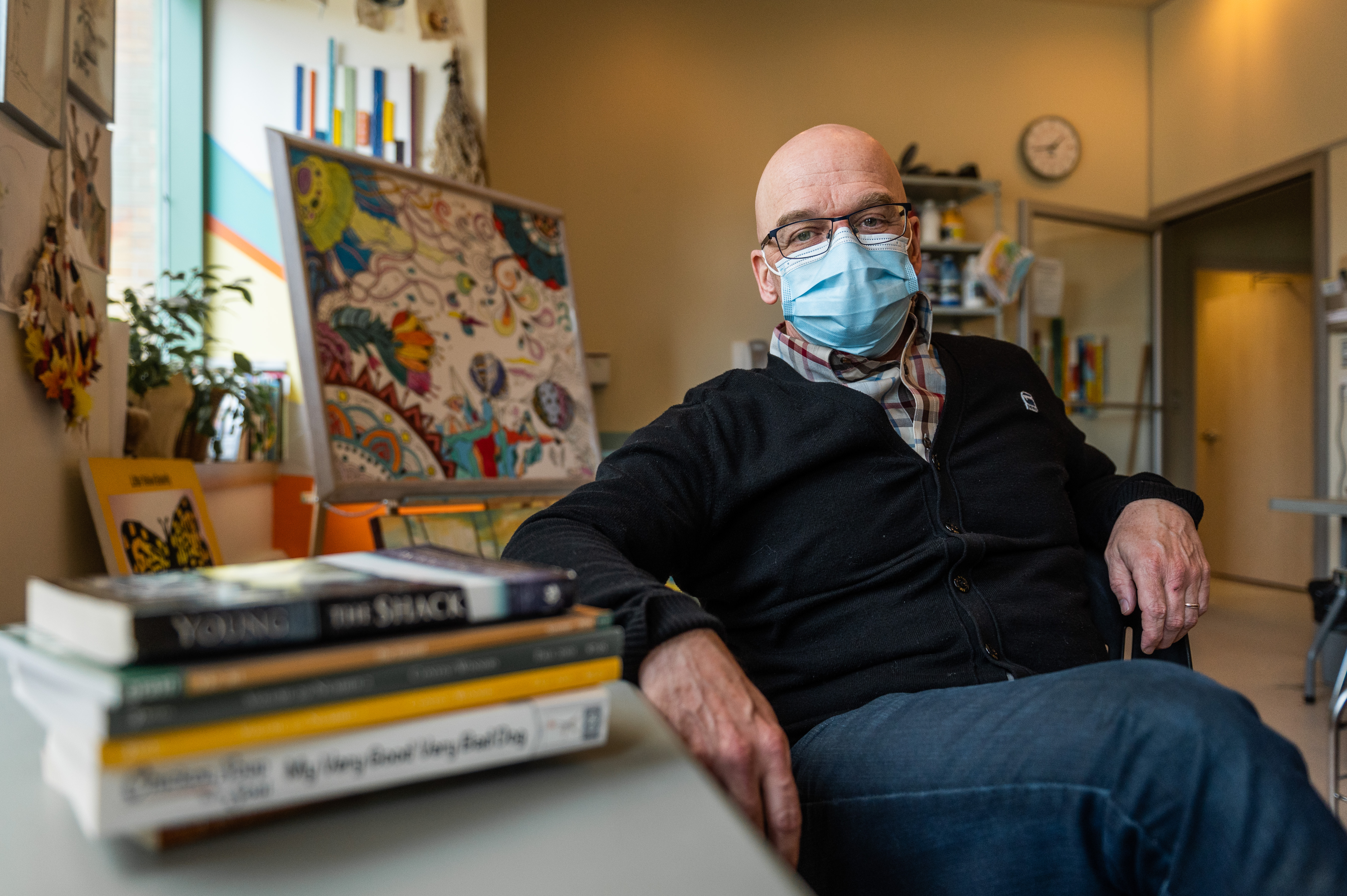 SPH Writer-in-Residence Daniel MacDonald in the Healing Arts Studio.
'Deeply committed to faith-based health care'
Simon has a longstanding relationship with the Hospital, having completed his spiritual care residency there in 2015-16. His wife also works at the Hospital as a physiotherapist.
"I'm deeply committed to faith-based health care as well," he said. "When you're in a mission-driven organization … it renders different opportunities than a purely secular environment. This Hospital offers a unique opportunity because I see spiritual care and healing arts as a part of the mission of what we're trying to do in the Hospital."
He has many questions that he hopes to answer during his five-year term as the Robert Steane Holistic Research Chair, and the result is sure to make an impact on how holistic care is practiced in our Hospital and beyond.
"What constitutes compassionate care in health care? How do we integrate patients' religious and spiritual concerns? How do we engage them in their personhood? There's a lot of growing evidence to suggest there are some good things happening here; how do we integrate that into an overall model of care? That's what I'm here to find out."