Giving the Gift of Dignity
Robert Steane's Wish to Leave a Lasting Legacy of Hospice Care
When Robert Steane made his first big charitable donation several years ago, his financial advisor gave him a warning: "He told me, 'The one thing about this donation is you're going to find it makes you feel really good and you'll want to do it some more.'"
His financial advisor's warning came true, as Robert proceeded to make several generous donations to different causes over the years and now, an astounding $1 million to St. Paul's Hospital Foundation's Close to Home Campaign in support of hospice and end-of-life care.
Robert had no previous connections to St. Paul's Hospital or the Foundation but was inspired to make a major gift when he learned that there was no stand-alone hospice in Saskatchewan.
"My knowledge was lacking," Robert said. "But when I did begin to understand, I was fortunate to be in a position where I could do something to help."
A history of giving
Robert Steane says he gives because he can. He learned about giving through his family: "My parents were generous in philanthropy, and so I learned from them. I've always felt that if you are able to and you are in a fortunate position, you should give back to the community."
Over the years, Robert has developed a portfolio of causes he donates to including health care, social programming and the performing arts.
For inspiration, he looks to philanthropists like Bill Gates or Jim Pattison. "What's the purpose of wealth if not to enable you to do something?" he asks.
Inspired by progress
Robert particularly respects organizations that are focused on innovation and bringing about positive social change.
Prior to his retirement, Robert worked as Senior Vice-President and Chief Operating Officer at Cameco Corporation—a position that took him to countries all around the world, including Kazakhstan, Australia, Japan, and many more.
At Cameco, he especially enjoyed working in a field that focused on progress and was pleased to be part of a team that was breaking new ground in their industry and inspiring global change.
A lasting legacy
Robert has decided to support the Close to Home Campaign because he wants to help people die comfortably and with dignity.
"I've started to think of these things more. We are all going to die, and if you could choose, where would you like to die? At home, of course," he says. "But, if you can't be at home, what are your options? Hospitals are for acute care and they are focused on sending you home."
He says you would not want to replace the care a hospital can give but that hospice care is different: "In a hospice, they are focused on making you and those close to you as comfortable as they can at the end of your life. It's not at home, but it's close to home."
Robert felt it was important to support the construction of the new Hospice at Glengarda: "I'm really excited to have the opportunity to be part of the first of something in Saskatchewan that's really needed. Hopefully, this is a seed that generates other hospices. Maybe it will get something going."
He is particularly pleased to be able to help others in his community:
"It makes me feel good to know it's significant . . . it's the first hospice. It's my legacy."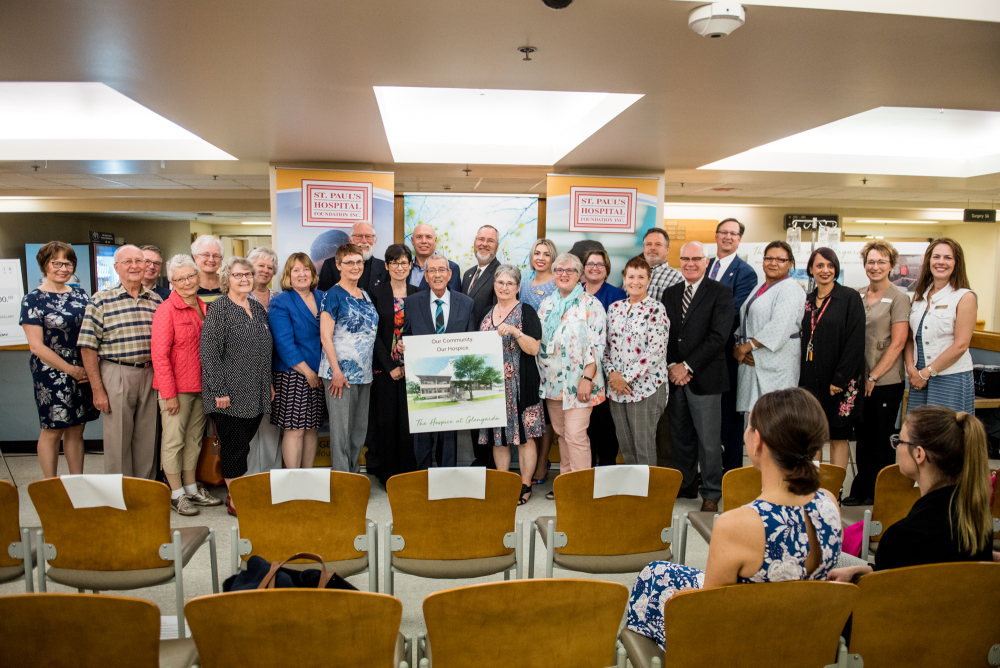 Robert surrounded by the grateful community of people who came together to design the Hospice at Glengarda
Donate Today
Click to make an online donation to the Close to Home Campaign or to other St. Paul's Hospital priorities
or simply stop by our office or call us at:
1702 20th Street West, Saskatoon SK S7M 0Z9
Telephone: 306.655.5821 Email: info@sphfoundation.org