Making noise and sharing support for frontline workers during a difficult year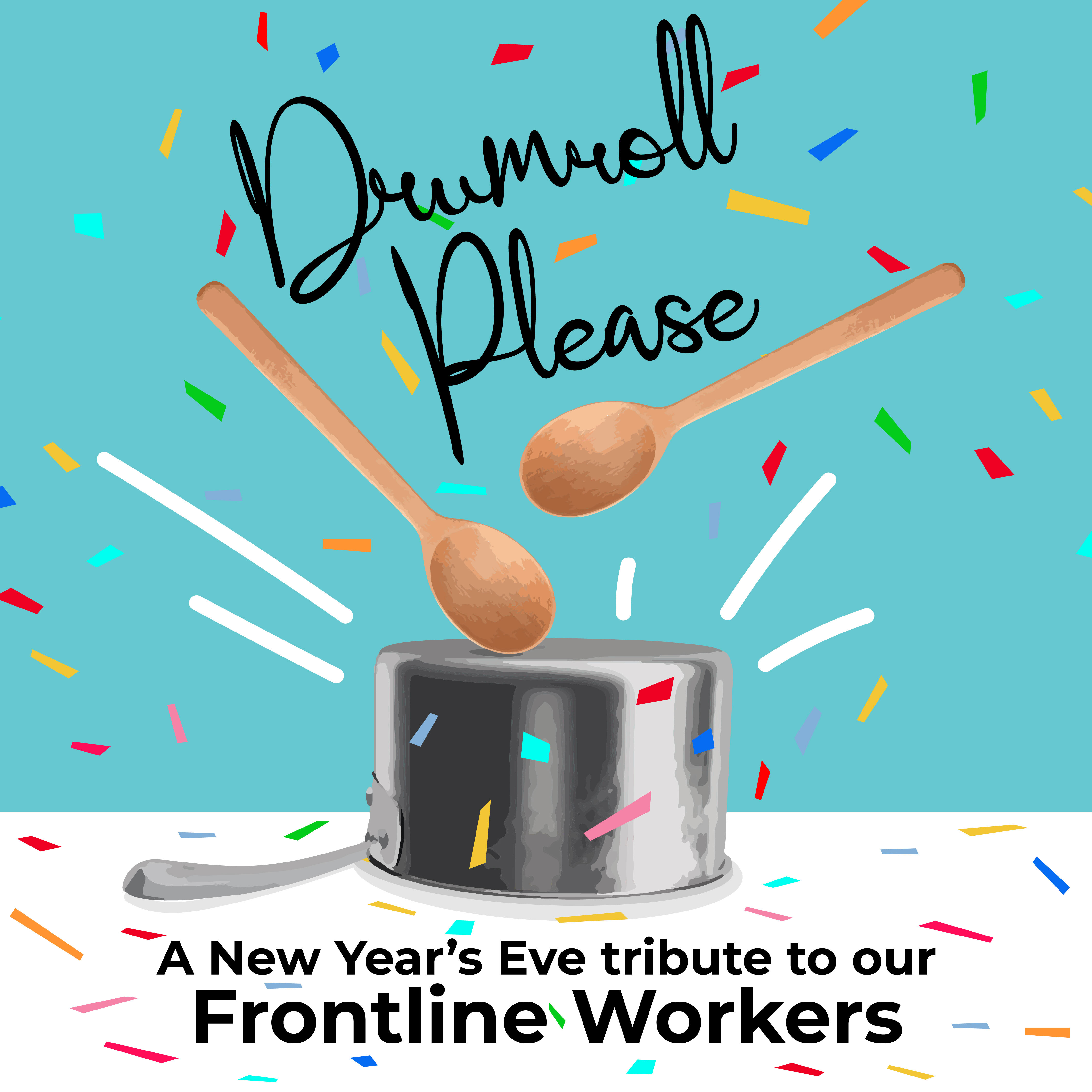 The last year has been challenging for our community. We've stayed home, worn masks and cancelled celebrations, all in the spirit of the greater good. Throughout it all, our frontline workers have been putting themselves at risk and working hard to keep our community safe.
It was with this in mind that St. Paul's Hospital Foundation, Royal University Hospital Foundation, Saskatoon City Hospital Foundation and Jim Pattison Children's Hospital Foundation hosted the "Drumroll Please" event on Dec. 31 at 7 p.m., inviting Saskatonians to take to their front porches, lawns, balconies and driveways to make some noise to thank frontline workers for getting us through 2020.
"We invited our community to join together to express a moment of gratitude and appreciation to everyone in our great city who has gone above and beyond in keeping our community, friends and families safe," said SPH Foundation CEO Lecina Hicke. She said it was a way to express gratitude for "courageous hospital staff, creative educators, committed support staff, and the diligent business community."
From 7:30 p.m. to 8 p.m., the Saskatoon Fire Department, Saskatoon Police Services, RCMP, STARS, SHA air ambulance and Medavie made their way through the city to the four Saskatoon hospitals to celebrate and thank all of the frontline workers and essential staff, and everyone in the city was invited to join in from their doorstep, front lawn, balcony or car.
Messages of support have also been pouring in from schools throughout the pandemic. During the Christmas season, the St. Paul's Hospital Mission Office posted some of those messages in the hallways to brighten the days of physicians and staff who saw the letters and artwork.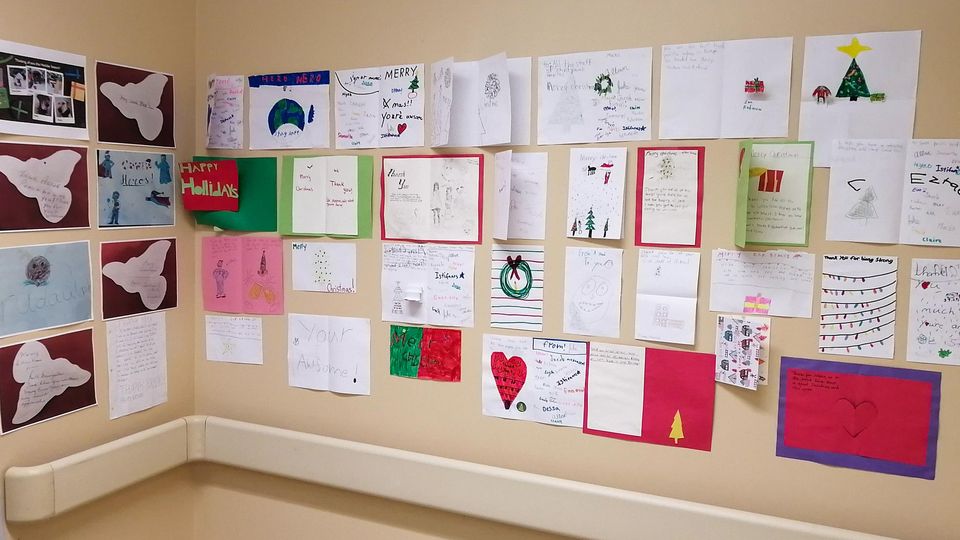 For Valentine's Day, École St. Paul's shared 200 messages of care in the form of creative art, cards and drawings, reminding patients at St. Paul's that they're thought of and cared for while in hospital.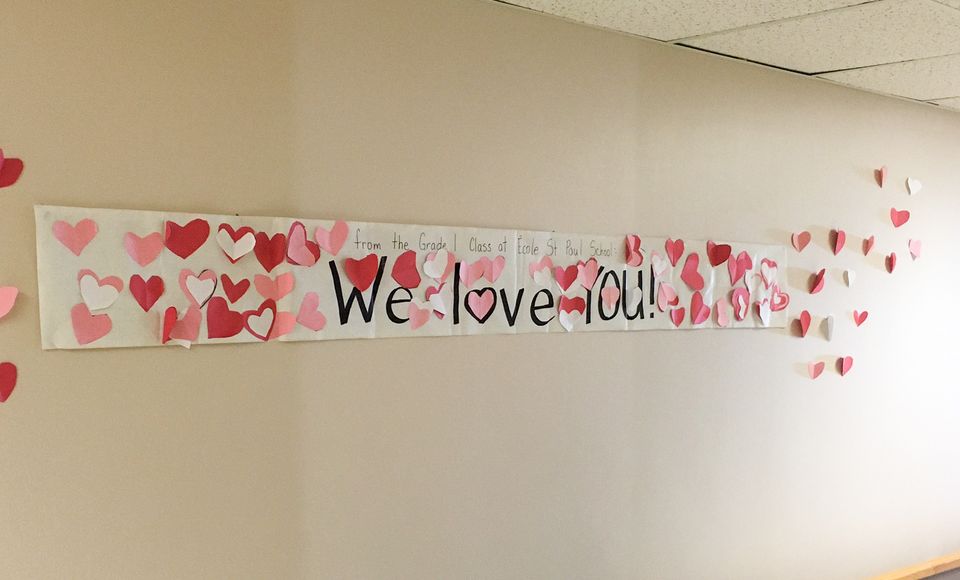 The Hospital also received an abundance of messages of support from Chief Whitecap School, Collette Bourgojne School, École College Park School, Greystone Heights, King George Community School, and St. Augustine School.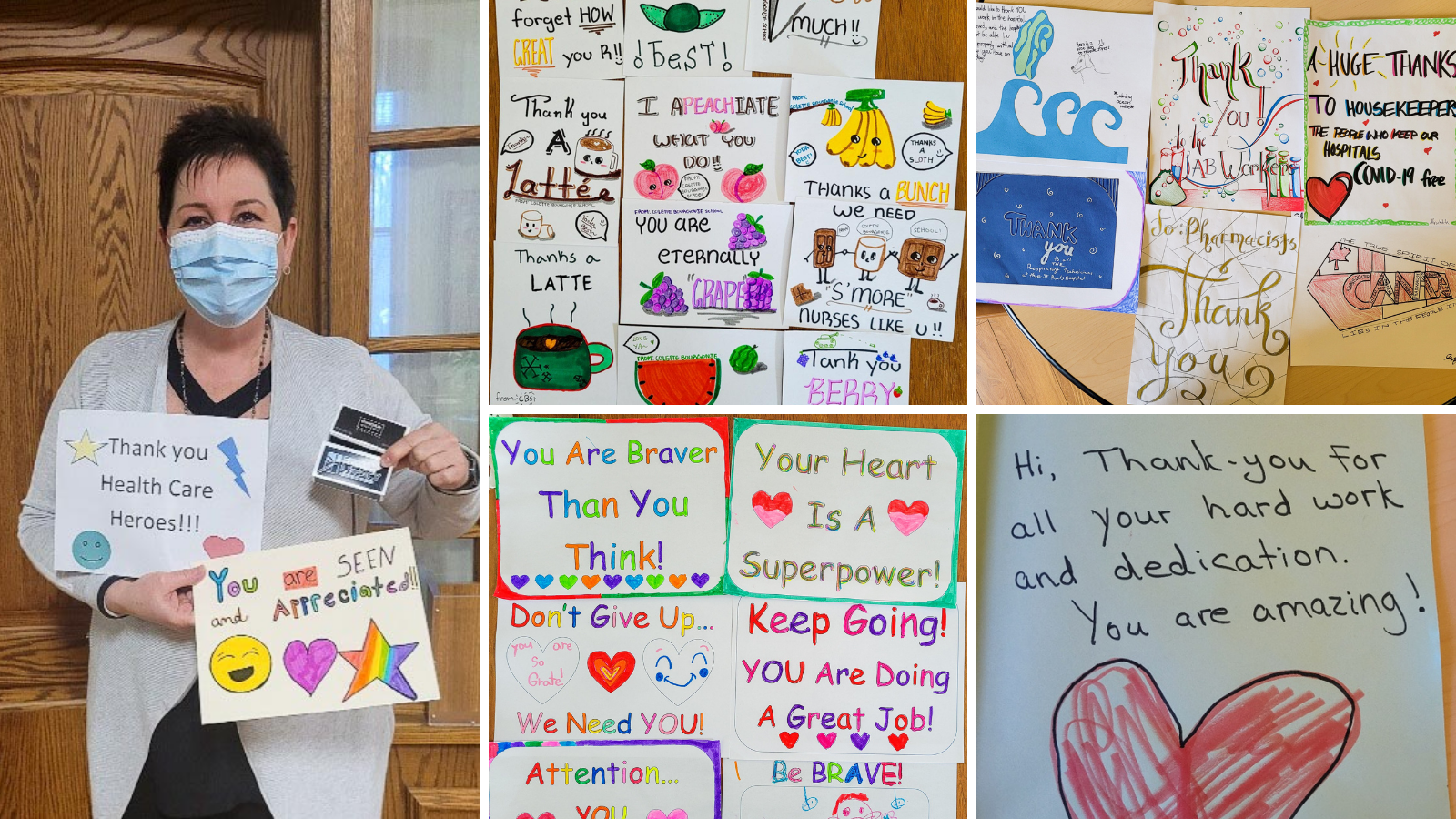 St. Paul's Hospital Executive Director Tracy Muggli with some of the artwork and gifts the Hospital has received.
It's been a difficult year for health care professionals but knowing that the community is rallying behind them makes it so much easier to do this hard work.