Everybody Loves Early's Farm and Garden Centre: Owners Give Back to the Community that Supports Them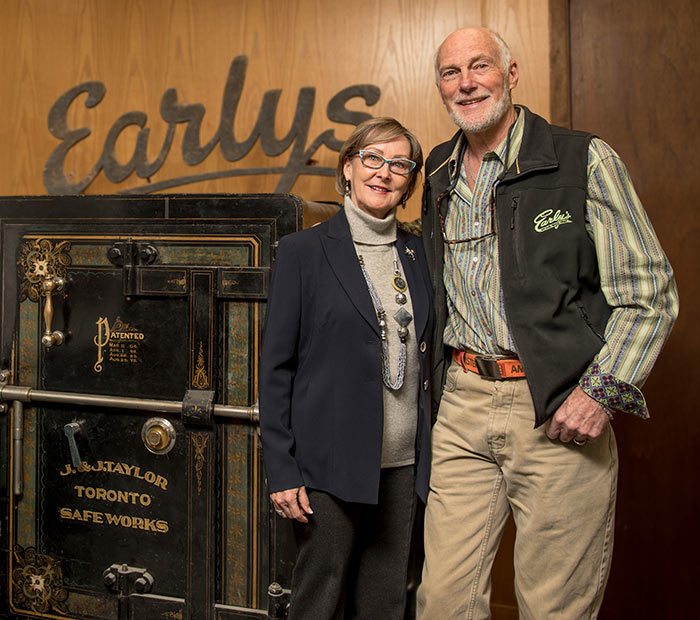 (L-R) Jan and Spencer Early.
Early's Farm and Garden Centre is a Saskatoon institution. The much-loved family-owned business sells supplies for gardens, pets, livestock, and more. Early's has been in operation since 1907, making it almost as old as the city itself. Some people have been going to Early's their entire lives or returning for their pet food or livestock supplies for decades; it is a household name in the city.
Owners Spencer and Jan Early appreciate the community support their business has received over the years. That's why they support local community initiatives like 4H clubs, pony clubs, fundraisers, and every year they give a wonderful donation of spring flowers for the SPH Foundation Donor Appreciation Luncheon. They are strong community advocates and that is why the Earlys decided to support the Close to Home Campaign for Hospice & End-of-life Care.
"The community has supported us all those years," Spencer said. "If it weren't for the community, we wouldn't exist, so at some point in time, you want to give back and choose something that seems appropriate."
Spencer said he heard of the need for a hospice from the Close to Home Campaign's Honorary Co-Chairs Gene and Adele Dupuis. Spencer said that when long-time friend Gene approached him and Jan about helping out with the Close to Home Campaign, they couldn't say no. "Gene's not an easy person to say no to!" Spencer said. "I was aware of the need for a hospice and the timing to participate was right."
Saskatoon is one of the few cities in Canada without a hospice and Spencer and Jan know people who have had complicated end-of-life situations: they could see how a facility like the Hospice at Glengarda could have made a difference for them. "I watched them go through that whole process, which was difficult," he said. "This is a strong need in our society."
Spencer and Jan are supporting the Close to Home Campaign through a $50,000 matching donation towards this year's Christmas Dove campaign, with the hope that their gift will inspire others to give, too. The Christmas Doves allow donors to share their name or the name of a loved one on a beautiful paper dove that will be displayed in the Hospital. You can make a Christmas Doves donation by purchasing a dove in the Hospital or making a donation online.
Spencer says he's glad they can contribute in this way. The community has supported them and he's happy to have the capability to give something back: "If we hadn't been supported by the community, we wouldn't be able to do any of this; it has to come from somewhere."