You can help revolutionize surgery by bringing the first surgical robot to Saskatchewan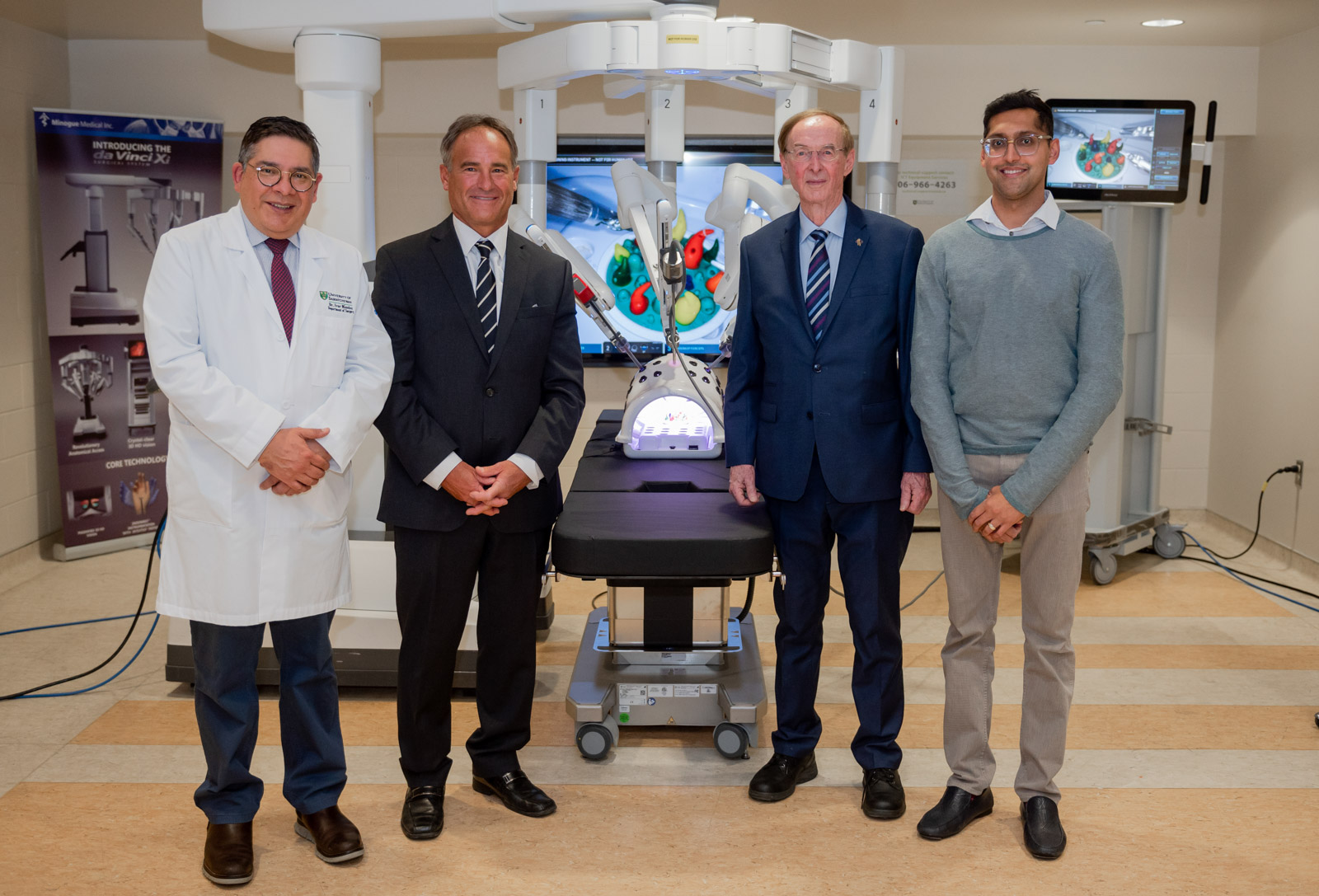 (l to r): Dr. Ivar Mendez, Dr. Peter Spafford, Merlis Belsher, and Dr. Varun Bathini pose in front of the da Vinci surgical robot.
Bringing the first surgical robot in all of Saskatchewan to St. Paul's Hospital will revolutionize surgery in the province and help thousands of patients, especially those with prostate and kidney cancer.
Dr. Varun Bathini, a urologist at St. Paul's Hospital, says he's eager to offer his patients robotic-assisted surgery.
"It will mean less invasive surgeries, reduced blood loss, less pain, and shorter recovery times," he said.
That's because the robot extends the abilities of his eyes, creating a superior view with 3D high-definition views of the inside of a patient's body, and extends the abilities of his hands, as the robot has tiny instruments that move like a human hand but with a far greater range of motion.
The machine even makes his movements smoother. Have you ever held a small tool like a pen or screwdriver for a long period of time and felt your muscles cramp or shake a little? The robot can sense the slightest 'tremor' and correct it so that no unintended movement harms the patient.
"Many of my patients, especially those with prostate and kidney cancer, will benefit greatly from the surgical improvements the da Vinci system will provide," Dr. Bathini said. "But so will many others, including people needing surgery on their ears, nose or throat (ENT) and patients who have lung conditions."
Surgeons using the robot can make tiny incisions that are minimally invasive, allowing patients to recover much faster and spend less time in the hospital, which frees up more beds and reduces wait times for surgeries.
Giant leap forward in surgery
You can be a part of Saskatchewan's healthcare history by donating to the da Vinci Surgical Robot Campaign. This is a once-in-a-generation chance to bring this giant leap forward in surgery for our patients in St. Paul's, Saskatoon, and all of Saskatchewan.
Philanthropists and community healthcare donors, the Merlis Belsher Family, have agreed to match donations up to $100,000.
Merlis Belsher says it's important to ensure doctors have the best technology available.
"The surgical robot is a win for everybody," he said. "A less invasive surgery means a quicker recovery and less time in the Hospital. It will recruit doctors who are familiar with using this machine and retain the doctors we have here. I hope others are inspired to bring more technological advances to our health care system."
He hopes that by matching donations, more people will be inspired to support the campaign and that we can all come together as a community to bring this innovative technology to the province.
Just imagine how much more your doubled gift will do to offer a higher quality of life for patients, reduce complications and risk of infection, and even help St. Paul's reduce wait times and address the surgical backlog caused by COVID-19.
Recruiting top medical talent
Not only will this technology have an immediate impact on patients, but it also plays a long-term role in strengthening the province's health care system by helping to recruit health care workers.
This state-of-the-art robot and a new robot-assisted surgical program will help the province recruit surgeons and specialists in disciplines like Urology, ENT and Thoracic (heart and lungs) medicine to work in Saskatoon.
Recruiting more top medical talent to Saskatoon means better care is available locally, so people won't have to travel to Edmonton or Toronto to get the next level of care we need.
Your chance to help
Surgical robots like this one are the future of surgical care, and your donation will help bring it to St. Paul's Hospital. Your gift will mean less pain, shorter hospital visits and quicker recovery times, allowing for more surgeries for our neighbours and our loved ones.
And thanks to the generosity of the Merlis Belsher Family, when you donate now, your gift will immediately be matched, doubling its impact.
Dr. Bathini says that no matter how much you're able to contribute, he's grateful for your support.
"My colleagues and I are thankful and incredibly touched," he said. "Please know that we feel truly blessed that there are kind and committed people willing to share their hard-earned money to advance healthcare in Saskatchewan."
You can make a donation online right now and have your gift doubled! Follow this link to make your donation. No matter how much you are able to contribute to this crucial campaign, every dollar helps.