Story Posted: 2015-11-03
Charity Cocktail Party Raises $127,950 for Urological Care
CHARITY COCKTAIL PARTY RAISES $127,950 FOR UROLOGICAL CARE
The Gormley Gathering, presented by PotashCorp, is an annual cocktail party that raises funds to improve care for patients living with prostate cancer and urological illnesses. In this, its fifth year, The Gormley Gathering, hosted by Rawlco Radio and Saskatoon radio personality John Gormley, has raised a remarkable $127,950 in support of the Leslie and Irene Dubé Urology Centre of Health at St. Paul's Hospital.
"It is inspiring, once again, to see the remarkable generosity of individuals and businesses in our community coming together in the prostate cancer cause," said the event host John Gormley. "Early detection and treatment of prostate cancer - and having the resources to do it - will help the one-in-seven men who will experience this cancer, and we are deeply grateful to those who have helped our fundraising goal again this year."
"We are very grateful for community supporters like Rawlco Radio who host charitable events in support of St. Paul's Hospital," says Bruce Acton, St. Paul's Hospital Foundation CEO. "This year's proceeds will purchase a surgical C-arm X-ray Scanner and Radiolucent Operating Theatre Table for the Cystoscopy Suite at the Leslie and Irene Dubé Urology Centre of Health that will minimize radiation exposure and improve patient stability and positioning, in addition to providing surgeons with greater accessibility to the treatment site."
Outside of ticket sales and general donations, major gifts included $25,000 from presenting sponsor PotashCorp, $20,000 from Gord and Jill Rawlinson, $20,000 from Robert and Sandra Stromberg and $15,000 from Smiley's Buffet and Catering Night for Life.
The Leslie and Irene Dubé Urology Centre of Health at St. Paul's Hospital provides important resources and state-of-the-art equipment for those suffering from prostate cancer and other urological diseases. The Centre also incorporates a nurse navigator to serve as a patient advocate and liaison between health care providers and patients who need help finding their way through the health care system.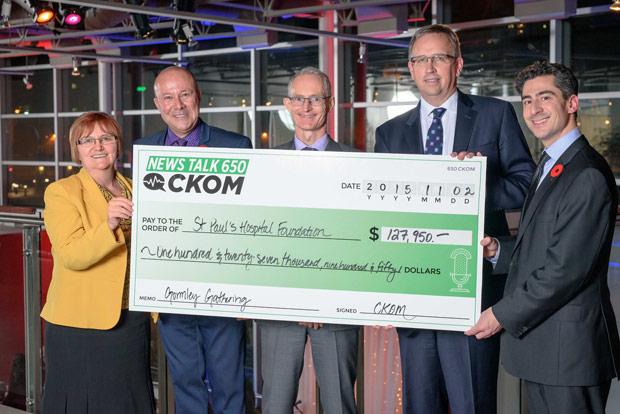 L-R: St. Paul's Hospital President and CEO Jean Morrison, with celebrity host John Gormley, PotashCorp President Jochen Tilk, St. Paul's Hospital Board Chair Bob Kirkpatrick and St. Paul's Hospital Foundation Board Chair John Agioritis. Photo by Electric Umbrella.