Story Posted: 2023-04-19
Creative Care through the Arts: St. Paul's Hospital Healing Arts Program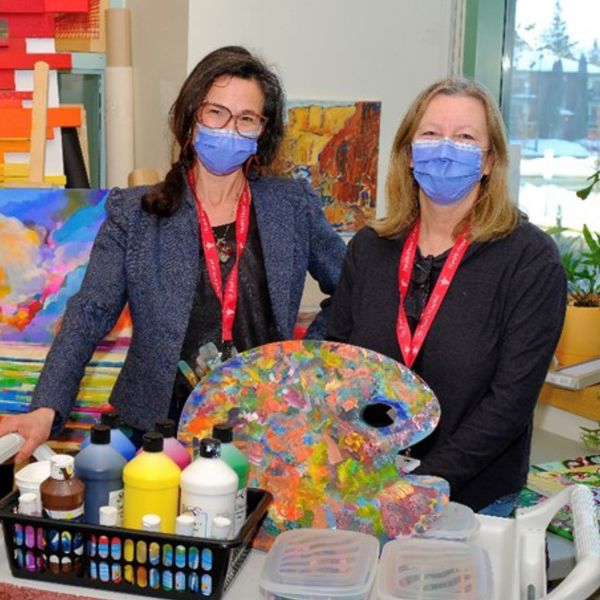 Originally published in The Lifeline, the St. Paul's Hospital Staff Newsletter.
Volunteering in the field of arts in healthcare is a tremendously rewarding experience. The Healing Arts Program at St. Paul's Hospital was initiated in 2005 under the Mission Office in collaboration with the Volunteer Workforce. Marlessa Wesolowski, the Artist in Residence at St. Paul's Hospital, knows firsthand; she was a volunteer who helped form the Healing Arts Program.
Volunteers have been an essential part of our programming and growth. Since its beginning, the program has grown strong and steady in the delivery of the creative arts for patients, families, staff and the community. Today the Healing Arts Program, funded by St. Paul's Hospital Foundation, is delivered by a multidisciplinary team of skilled experts composed of an Artist-in-Residence, Music Therapists, Writer-in-Residence, and a vibrant volunteer program.
This diverse and inclusive program's mission is to enhance the holistic nature of the care offered at St. Paul's Hospital. We do this by creating opportunities where patients, families, community, and staff can connect and engage in the creative arts to create meaning and improve health and wellbeing.
Since 2009, the beginning of the visual arts component of the Healing Arts Volunteer Program, there have been 58 volunteers who have contributed 5876 hours. Our volunteers come from diverse experiences with varied reasons for contributing their time. For some it is personal, and for others it's even an educational requirement, as is the case for Pharmacy students through their Service Learning experience and for students at the Core Neighbourhood Youth Co-Op.
"Having started my career at St. Paul's Hospital as a volunteer, I recognize the significance and value of creating opportunities where socially engaged artists, healthcare workers, and university students can give to their community while learning and experiencing firsthand the intersection of arts, health, and healthcare delivery," says SPH artist-in-residence, Marlessa Wesolowski.
With the presence of volunteers, we are able to expand the reach of our arts-based services and programming and connect with more patients.
Volunteers have several ways that they can contribute their time and artistic skills and gifts. They can work in the Healing Arts Studio or at the bedside, actively engaging with patients and families in artistic expression, like painting a picture or writing a poem. They may also participate in performance arts, such as playing music in a common area.
In any event, artists help cultivate space that supports the healing needs of patients and their families. Often, volunteers build close supportive relationships with those that we serve, and at the same time are grateful for their time sharing and exploring through the arts.
Many patients and our community have enjoyed the benefits of our Healing Arts volunteer workforce. This program is an example of the power of community and demonstrates how creativity is a necessary and vital aspect of holistic care delivery for all.
If you would like to volunteer as a visual, music, literary artist or community arts collective we welcome you to join our team. Please visit: www.stpaulshospital.org/about/healing.php