Story Posted: 2019-12-02
New $2.4 Million CT Scanner at St. Paul's Hospital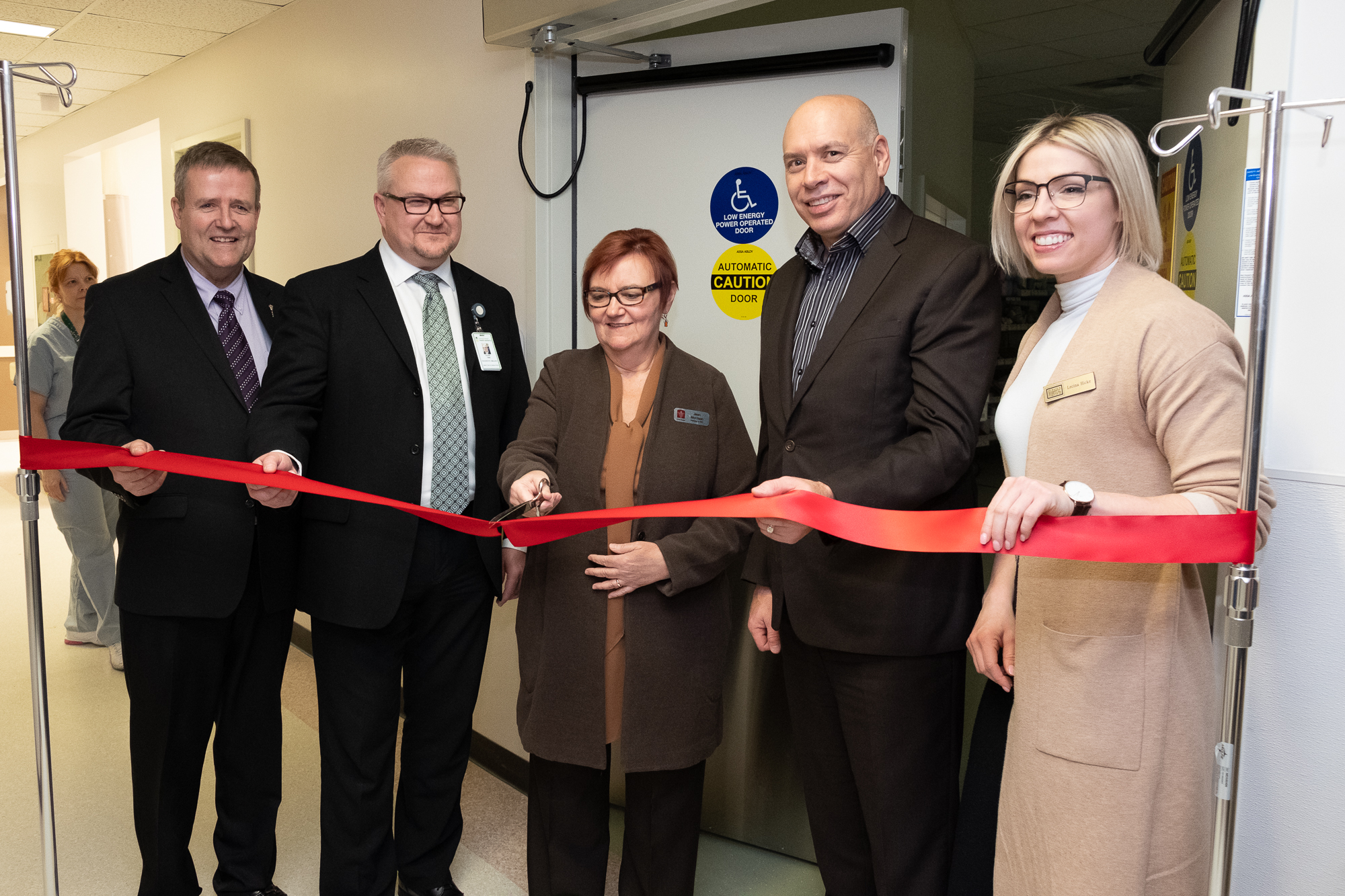 (l-r) MLA David Buckingham; Shane Timm, SHA Director of Diagnostic Imaging and Nuclear Medicine Services; Jean Morrison, CEO of Emmanuel Health and St. Paul's Hospital; Neil Weber, St. Paul's Hospital Foundation Board Chair; Lecina Hicke, St. Paul's Hospital Foundation CEO.
(December 2, 2019) Saskatchewan residents are benefiting from improved access to specialized medical imaging, thanks to a new computed tomography (CT) scanner at St. Paul's Hospital in Saskatoon.

The Government of Saskatchewan contributed $1.2 million toward the replacement of the CT scanner, while the St. Paul's Hospital (SPH) Foundation raised the remaining $1.2 million.

"In partnership with the SPH Foundation, we are pleased to cost-share funding for this new CT scanner that will enhance health care services available in hospital," Saskatoon Westview MLA David Buckingham said on behalf of Health Minister Jim Reiter. "By replacing this equipment, we are following through on our commitment to invest in infrastructure and improve patients' access to specialized medical imaging services."

The new scanner's advanced technologies will allow health care professionals to provide more scans for additional patients in less time, increasing efficiencies and providing clearer scans for better diagnoses and treatment options.
"We wish to thank the Ministry of Health, the St. Paul's Hospital Foundation and all the many generous donors who made this possible," SHA Executive Director for Diagnostic Imaging Bryan Witt said. "This new scanner will help us improve the quality and timeliness of our services and will contribute to making the patient health care experience better for everyone. Every day."

"We are deeply grateful to our community who saw the need and provided an astounding $1.2 million in support of a new CT scanner that will have a tremendous positive impact on patient care at St. Paul's Hospital," SPH Foundation Board Chair Neil Weber said. "We deeply appreciate all of our generous donors including Orme and Shirley Asher, our Give and Grow Radiothon sponsors Ron and Carol Schira, Saskatchewan Indian Gaming Authority and Furniture World, our media partners 650 CKOM, C95 and Rock 102, and the 2017 Hospital Home Lottery Ticket purchasers."

"When the Grey Nuns started this hospital, they had a vision of community working together to better the health of the people of this province," CEO of Emmanuel Health and St. Paul's Hospital CEO Jean Morrison said. "Today, that vision has been achieved as our province, our health care practitioners, and our community have all come together to bring a state-of-the art CT scanner to St. Paul's Hospital, significantly advancing patient care, and helping to ensure a community of health, hope and compassion for all."
A CT scan combines X-ray images taken from different angles around a patient's body, and uses computer processing to create images of bones, blood vessels and soft tissues. Saskatoon's four CT scanners serve more than 39,000 patients each year. The number of patients receiving CT scans in Saskatchewan has increased by almost 50 per cent since 2007-08.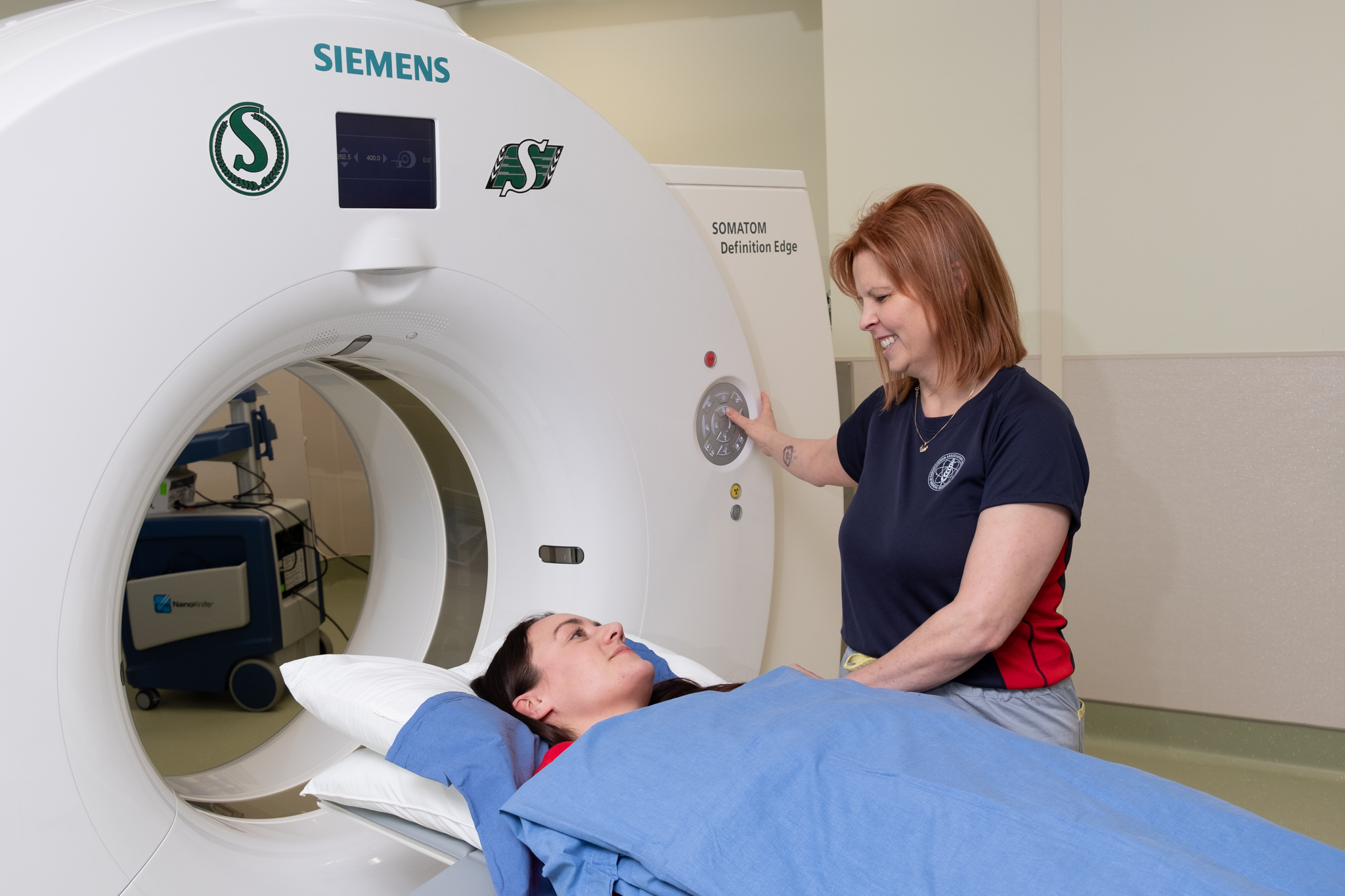 Melanie Hilkewich, CT Supervisor demonstrates the new CT Scanner at St. Paul's Hospital.