Story Posted: 2019-06-18
Community Comes Together with Philanthropist Robert Steane to Support Local Hospice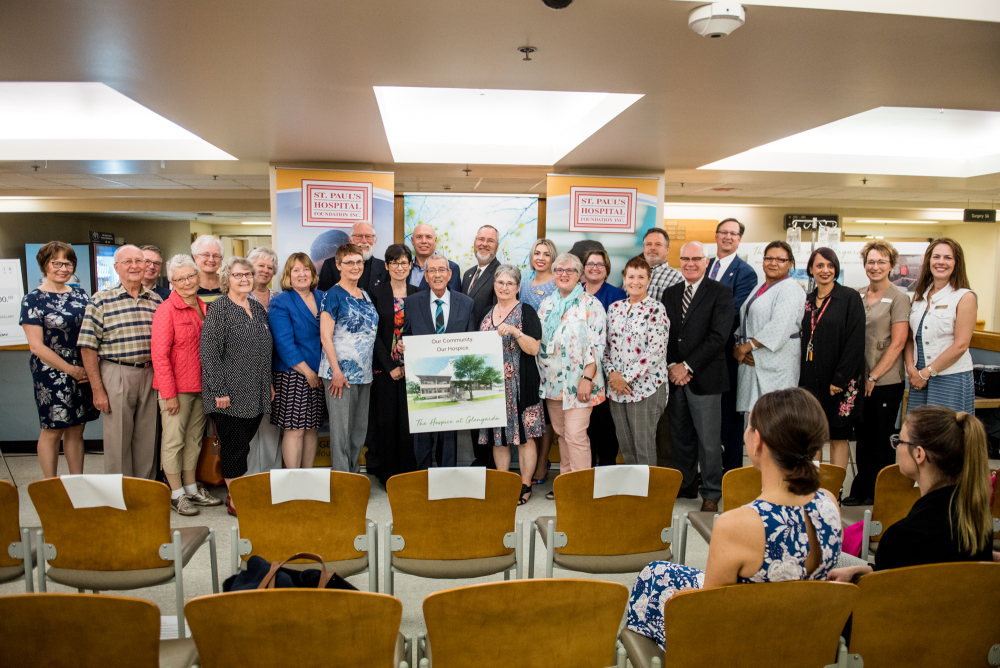 (June 18th, 2019—Saskatoon)—St. Paul's Hospital Foundation announced an exciting $1 million gift to the Close to Home Campaign for Hospice and End-of-life Care from philanthropist Robert Steane.
Robert Steane says he gives because he can. "My parents were generous in philanthropy and so I learned from them. I've always felt that if you are able to and you are in a fortunate position, you should give back to the community."
Bruce Acton, CEO of the St. Paul's Hospital Foundation, said, "It's people like you, Bob, that make this dream a reality. Your generosity matters and will leave a lasting legacy of hospice care."
The Hospice at Glengarda was heavily influenced by the community at an event that took place over four days in November of 2016. At the event, Dr. Barry Brown, a member of the Hospice at Glengarda Steering Committee, described how the community came together to help design Saskatoon's first hospice.
"The Hospital brought together a community of palliative care patients, family members, hospital leaders, arts and music therapists, home care, an architect and many others, for an important conversation on how we take care of the people in our community."
St. Paul's Hospital Foundation Board Chair, Neil Weber was thrilled to be a part of the process. "We are committed to helping the Hospital achieve its goal of serving the vulnerable in our community. We are so grateful to donors like Robert Steane who are helping to bring the hospice vision to fruition."
Karen Barber, Executive Director of St. Paul's Hospital thanked Robert Steane and the community members in attendance at the event, particularly those who participated in the design process. "We are grateful for your thoughtfulness in considering how patient care will be delivered in this new facility. Your heartfelt commitment to leaving a legacy helps change the way we care for those facing end-of-life."
To make your donation, or learn more about the Close to Home campaign, contact St. Paul's Hospital Foundation at 306-655-5821 or visit www.CloseToHome.fund