The Design of Giving: LMNO Donates Their Creativity to the Mistletoe Ball
(L-R) Back row: Traci Deck, Amber Glendenning, Jessica Tremblay. Front row: Jackson Tran, Otto, Rochelle Leader.
When LMNO presented this year's Mistletoe Ball designs to the Volunteer Committee in June, they went all out and really got into the Christmas spirit — they decked out the boardroom with Christmas decorations, twinkling lights, and a fire crackling on the TV. They even served tea that "smelled like Christmas," said Traci Deck, LMNO's Associate Creative Director.
"These are the fun ones to work on," Traci said. "It's cool to see it come to life and to see how it benefits the Foundation."
The Mistletoe Ball, presented by Nutrien, is a signature event that has a longstanding tradition of supporting the needs of St. Paul's Hospital.
Senior Account Manager Jessica Tremblay was particularly grateful to be involved this year because the funds raised are supporting the Close to Home Campaign for Hospice & End-of-life Care. Jessica said the Close to Home Campaign is near and dear to her heart because she has had family members who were terminally ill.
"Having a hospice might have made that end-of-life time easier for them," Jessica said. "For the agency, and even just personally, it's so important to be giving back to our hospital foundations in any way we can."
LMNO has been providing an in-kind donation of professionally designed marketing materials for the Mistletoe Ball for the past 14 years, since 2005.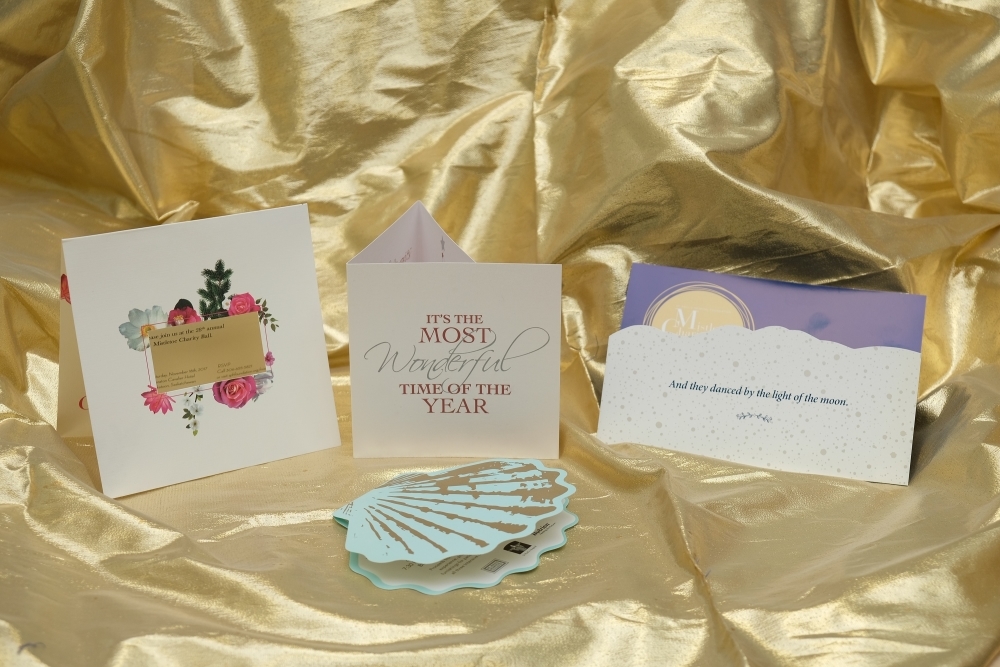 A sample of some of the Mistletoe Ball invitation designs over the past few years.
Jessica said it's a lot of fun to work on this project. "Every year we are able to assign a new design team so everyone gets a chance to participate in the Mistletoe Ball creative."
Each year, they meet with representatives from the Mistletoe Ball volunteer committee to brainstorm ideas that will suit the year's theme. Last year's theme was "under the sea." The invitation was a shell that opened up and it was designed so it could be hung on a Christmas tree.
"The Mistletoe Ball committee is lovely to work with," Traci said. "They are always so excited to see what we come up with and are very appreciative of the work we do. It makes our jobs easier with great clients like that!"
SPH Foundation Manager of Annual Giving Michelle Neufeld says the invitations are incredibly popular with attendees — many people save their invitations and it is the design concept developed by LMNO that serves to reinforce the theme for the entire event. Traci said they are thinking about that when they are designing the invitations; they want them to be something that looks and feels as special as the Mistletoe Ball.
"Not only are we giving back and it makes us feel good, but it also gives us creative freedom and a chance for our art directors to sink their teeth into something," Jessica said.
This year, the concept was "Traditional Christmas," honouring the 30th anniversary of this special event. LMNO used an elegant silver and red colour and a beautiful script font with classic Christmas elements like trees and stars. The result is beautiful and classic, just like the Mistletoe Ball.
The 30th Anniversary Mistletoe Charity Ball was a great success! See photos from the event here.