Story Posted: 2023-06-19
Message from Emmanuel Health Leadership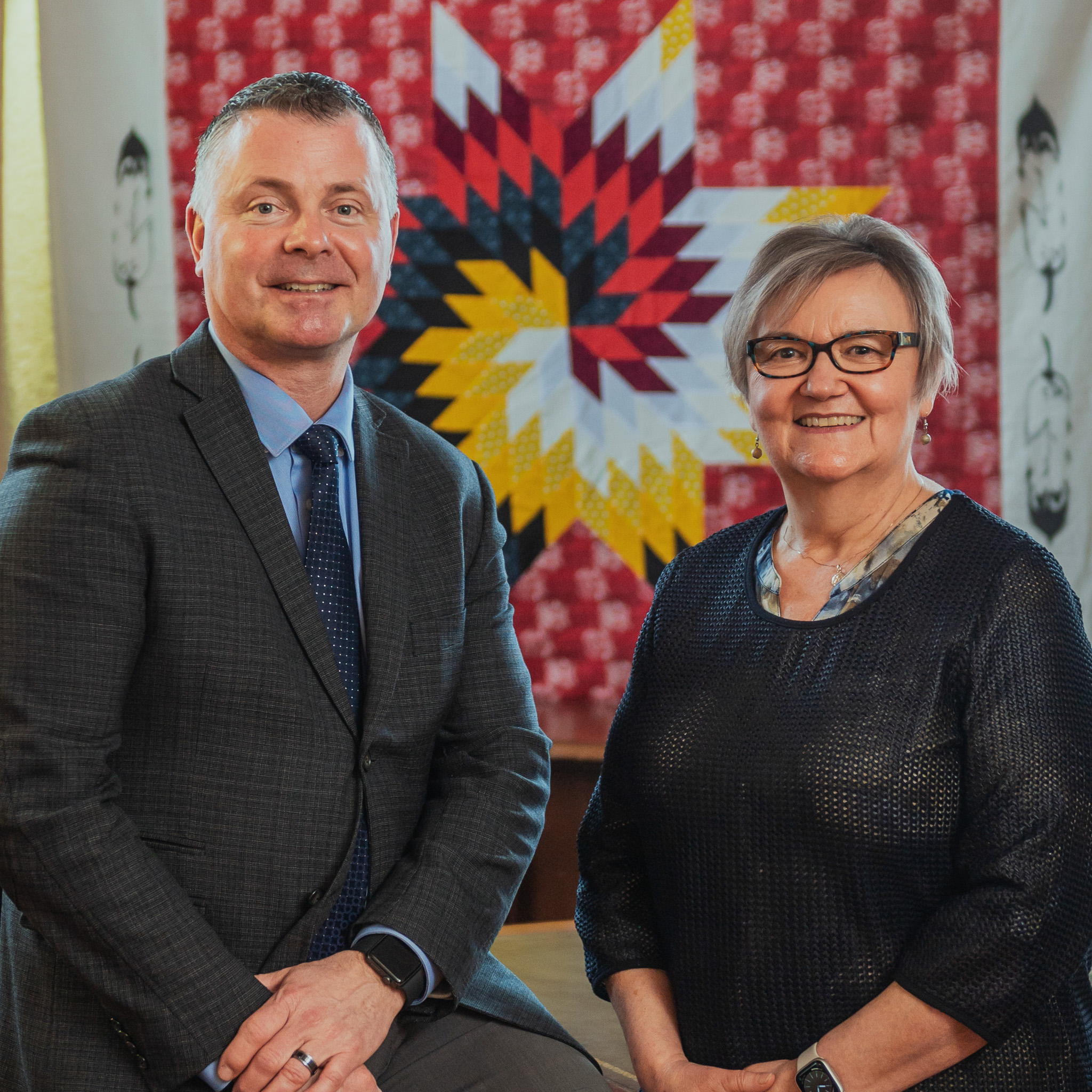 From the St. Paul's Hospital & SPH Foundation 2022-23 Annual Review.
For more than a century, Catholic Health Ministry providers have been caring for generations of Saskatchewan families. Today, as part of Emmanuel Health, we continue this longstanding commitment to serving all those within our community. As Emmanuel Health transitions leadership, we are grateful for the opportunity to work alongside one another to ensure proper handover and collaboration in continuing the enduring commitment of Catholic Health Ministry.
As we look back on the 2022-23 year, it is important to recognize that by working together, our teams have made significant progress in serving our communities. Together, we continue to work toward our vision of being "a vital community of health, healing and hope" for all, despite significant challenges – including the ongoing disruptions caused by the global pandemic.
We are proud of the speed with which our province-wide teams have worked together to adapt to these new challenges, and continued to respond to the unmet needs of those that we serve. Although the pandemic continues, over time the healthcare system has found ways to lift restrictions, enabling families and friends to rejoin the healthcare team in supporting the care being delivered to those in need.
We anticipate 2023-24 to be another exciting year for us at Emmanuel Health, with many new projects and initiatives that will expand our already strong infrastructure and services. We look forward to partnering with our communities and the St. Paul's Hospital Foundation to deliver the best care and services to meet the healthcare needs of our communities. Our partnerships, in combination with support from the Foundation and community donors, allow us to innovate with state-of-the art healthcare equipment such as the da Vinci Surgical Robot, implemented this past year. It is with deep gratitude that we receive our donors' generosity so that our staff and physicians can improve and enhance the services that we provide.
What can you expect in the future? We will continue to pursue collaborative partnerships that make Saskatchewan a healthier place to live and work. We will seek out innovative ways to deliver quality care where it is needed most. We will draw upon the strengths of our teams and provide them with opportunities for personal and professional growth. Finally, we will continue to embrace our mission of responding to the unmet needs of the vulnerable and the communities that we serve through compassionate and innovative service and partnerships.
We will close by thanking our staff and physicians. Throughout this pandemic you have done not only everything asked of you, but also so much more. You have balanced an extremely heavy load: at once caring for your own families, your communities and our Hospital's patients and families. The entire Emmanuel Health family is profoundly thankful for all you are doing to support our Mission, and is grateful to walk alongside such an amazing team of colleagues. Thank you for the care and compassion that you deliver each and every day to one another and to the communities that we serve.
With our deep gratitude,
Jean Morrison
Outgoing President and Chief Executive Officer of Emmanuel Health
Corey Miller
Incoming President and Chief Executive Officer of Emmanuel Health