Story Posted: 2023-08-21
St. Paul's Hospital Foundation Highlights
From the St. Paul's Hospital & SPH Foundation 2022-23 Annual Review.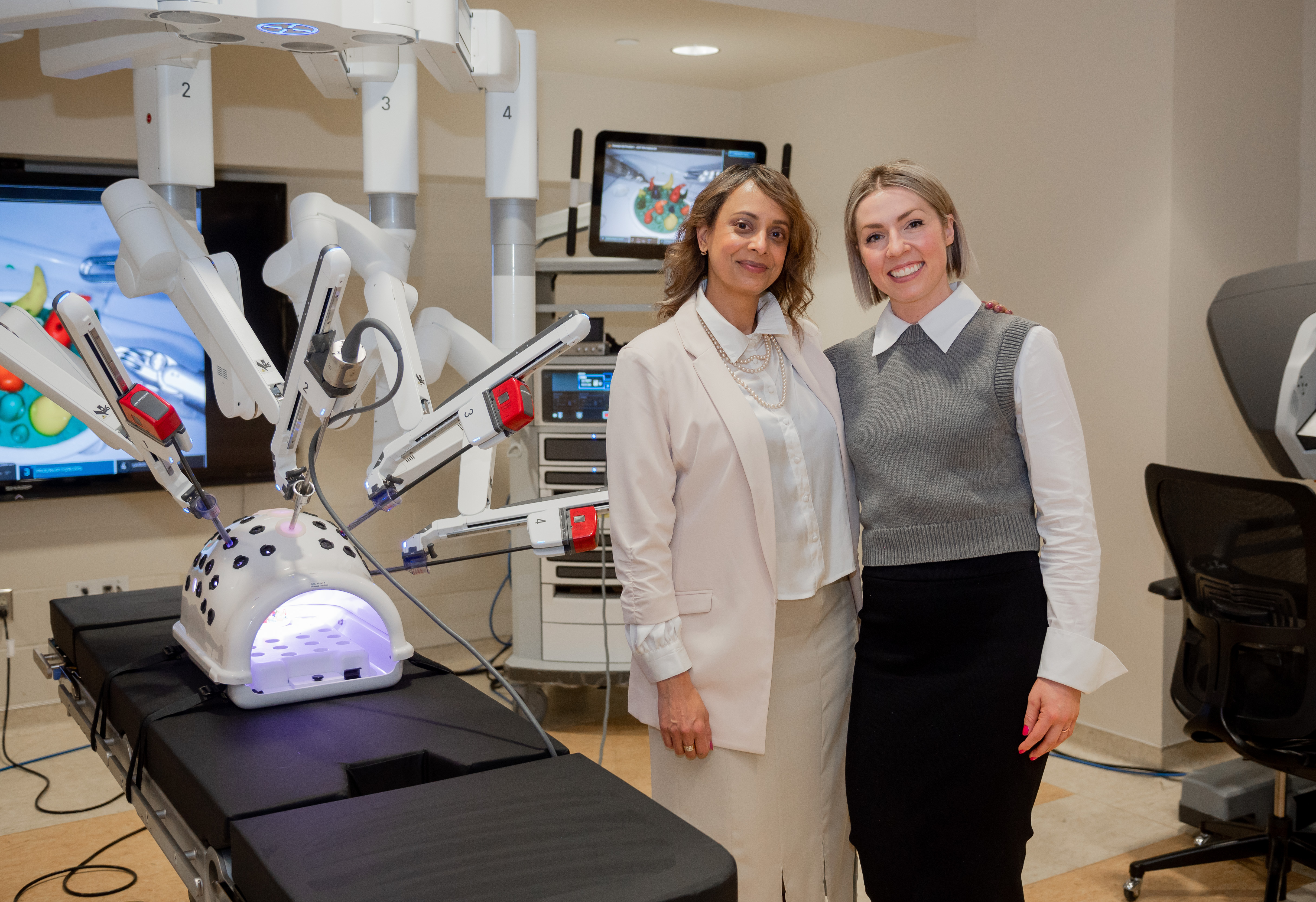 Pictured (l-r): SPH Foundation Director of Philanthropy Sandhya Padmanabh and SPH Foundation CEO Lecina Hicke with "Daryl," the da Vinci Surgical Robot.
da Vinci Surgical Robot
Thanks to the remarkable generosity of our community, St. Paul's Hospital Foundation raised $1.5 million in just four short months to support the purchase of our province's very first surgical robot. An inspiring lead gift was received from the Merlis Belsher Family, alongside remarkably generous major gifts from Kinsmen Foundation, Minogue Medical, Ruby Dyck, Suer and Pollon Mechanical, and North Prairie Developments.
The Belsher Family also inspired our community to give by generously donating a matching gift for our spring Seeds of Hope letter appeal, with the mailing raising a total of $253,242.
Our Foundation and Hospital were very pleased to partner with Saskatchewan Health Authority and the Ministry of Health on this project. The Ministry of Health provided an important $1 million dollar investment to support the purchase of the Robot. We are grateful to the leadership of Dr. Bathini in advancing a Surgical Robotics Program for the province, alongside guidance and direction from Dr. Mendez, Dr. Spafford and countless other physicians, health care providers and SHA administrative staff to combine expertise in acquiring and in seamlessly integrating this new technology into our health care system in record time.
Since September 2022, this cutting-edge robotic technology has been used to perform over 130 procedures, resulting in reduced recovery times and minimized complications for patients. As a result, and importantly, surgical waiting times have been reduced. The Robot, affectionately named "Daryl" in honour of the late Daryl Belsher, is currently supporting urological, gynecological and thoracic procedures, with intended future expansion to ear, nose and throat procedures such as head and neck cancers. The da Vinci Robot acquisition marks a significant milestone for St. Paul's Hospital, further strengthening our commitment for provision of world-class care to our patients and serving as an example of the phenomenal accomplishments made possible through strong partnerships.
You Are Our Angels!
Monthly donors are making a significant difference in the health and well-being of our community, and in advancing patient care. In 2022, the Circle of Angels programs raised $50,160 in monthly gifts from donors, staff and physicians. The security of continued support through monthly giving truly is a blessing, and that's why we call our monthly donors "Our Angels."
Endowments
St. Paul's Hospital Foundation Endowments are a wonderful way to make a lasting contribution that provides a sustainable source of funding for a number of programs and initiatives. Donors either can make a gift in support of an existing endowment, or can set up a new Named Endowment with a minimum gift of $25,000. As per donor wishes, the principal of the gift is held in perpetuity and the interest earned is allocated to a program or need in the Hospital. We are proud to manage 23 endowments that support a range of programs including staff education, Saskatchewan Polytech nursing education, kidney health, medical equipment, end-of-life care and other areas of greatest need. We are deeply grateful for the generosity of our donors who have made these endowments possible.
Memorial, Honour and Tribute Gifts
We salute all of you who made a gift in memory of, in tribute to or in honour of a particular person or event. In 2022, we received Memorial Gifts totaling $466,608 and In Honour/In Tribute Gifts totaling $10,090. For these, we are very grateful.
Foundation Draws
Our Foundation Draws provide up to $125,000 annually to support improved care and services at St. Paul's Hospital. Each year, Hospital employees submit requests to the Foundation for items to enhance patient care or Hospital programs. Funded items this past year included a ride-on scrubber for Environmental Services, ergonomic workstations for Medical Device Reprocessing and bariatric wheelchairs for the 5A Medicine Ward, to name only a few.
Love Cart
Thanks to your support, Hospital Administration and Foundation employees have been wheeling a cart loaded with snacks and sundry items throughout Hospital units, distributing them to our wonderful staff as a token of appreciation for their hard work.
SABEX Awards
St. Paul's Hospital Foundation was the proud recipient of the SABEX 2022 Award for Community Impact, in recognition of our wonderfully successful Close to Home Campaign. Board and Staff attended the awards Ceremony on October 13, 2022 at TCU Place, and CEO Lecina Hicke accepted the award on behalf of the Foundation.
Creating a Better Tomorrow through a Planned Gift
A bequest in your Will costs nothing during your lifetime but can go on to provide a lasting legacy and assure a bright future for health care in this province – a future in which life-saving programming and medical equipment changes and saves lives. Thank you to our Spirit of Life donors and those considering leaving a bequest to our Foundation. In 2022, Planned Giving provided a remarkable $1,291,401 to St. Paul's Hospital.
Gift Shop
St. Paul's Hospital Foundation's Gift Shop provides an important service to patients, visitors and staff. Day-to-day essentials, gifts, clothing, snacks and more are available for purchase. This fall, the Gift Shop was excited to welcome back long-term dedicated volunteers and part-time staff, and to once again open its doors on Saturdays.