Story Posted: 2023-10-11
Changing the face of health care: Charity begins at home for Leslie and Irene Dubé
From the Spirit Newsletter: The voice of St. Paul's Hospital Foundation.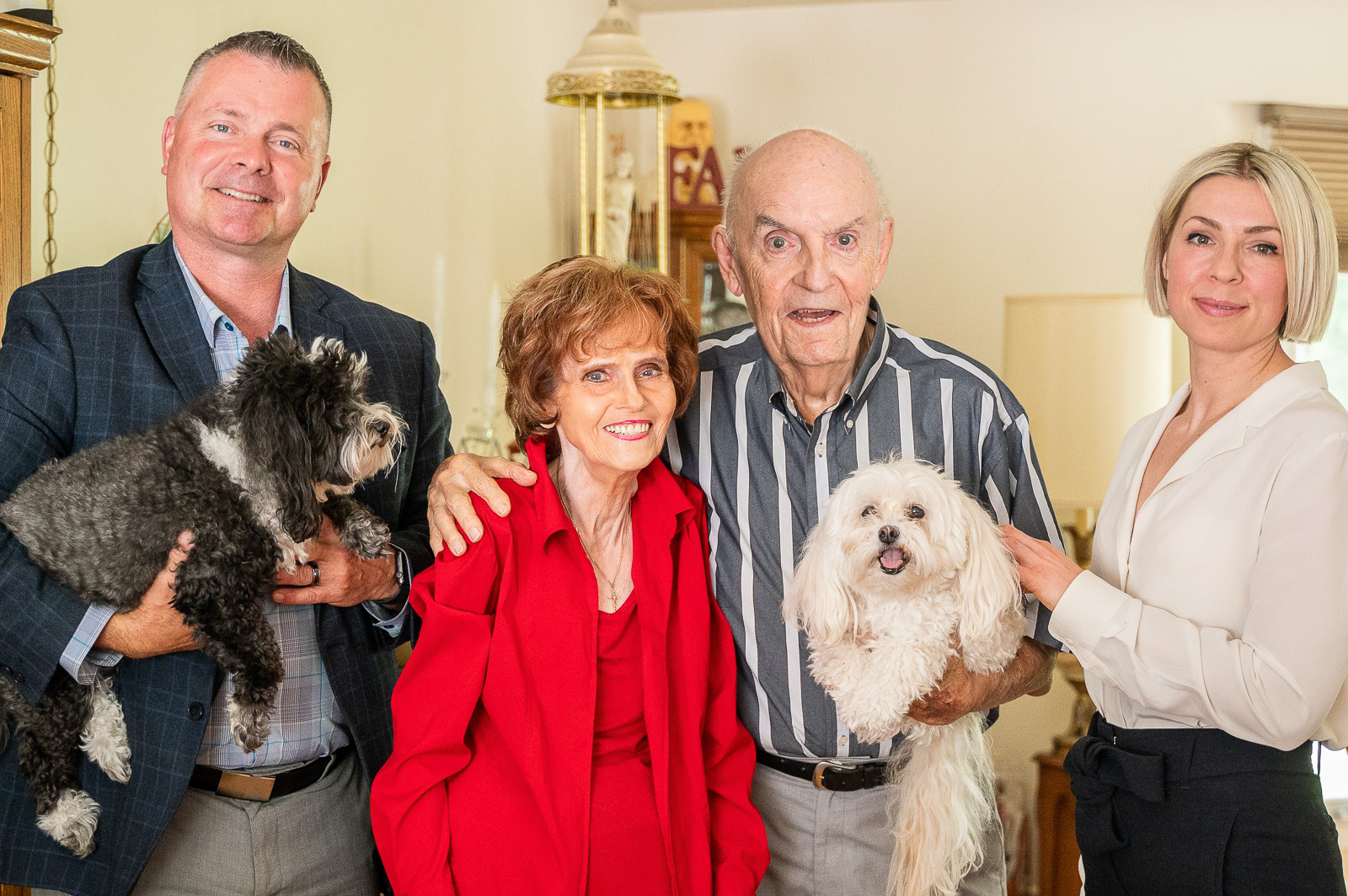 (l-r) Emmanuel Health CEO Corey Miller, Irene Dubé, Leslie Dubé, and SPH Foundation CEO Lecina Hicke, accompanied by dogs Sugar and Ginger.
Leslie and Irene Dubé have been instrumental in transforming health care in Saskatchewan, and their generosity stems from a place of love. This remarkable couple seeks to care for the most vulnerable, and their compassion is spread widely, even encompassing international aid organizations like the Red Cross. But as Irene eloquently says, "charity starts at home", and the Dubés want to ensure that Saskatoon hospitals receive the support they need.
"God gave us all this and didn't charge us for it," Irene explains. "Now, whatever we have, we're prepared to share it with others."
The Dubés' unwavering dedication to a proactive approach to health care and their belief in the power of charity have improved the lives of countless individuals in Saskatoon and beyond. Both Leslie and Irene have also given considerably of their time and talent to support St. Paul's, and hold dear memories of time spent at the Hospital. Leslie served on the Hospital Board of Directors for 16 years, and has wonderful memories of working with the Grey Nuns during his tenure.
Irene has and continues to hand-make cozy blankets for healthcare facilities in the city including St. Paul's and the Hospice at Glengarda, bringing heartfelt comfort for patients receiving medical care away from home. The couple also had friends from their hometown of Wynyard, Saskatchewan, who received their nurses' training at St. Paul's. They have always held the facility close to their hearts, inspiring them to provide many generous gifts that have brought significant lasting impact.
One such gift more than 30 years ago purchased Saskatchewan's first and only lithotripter — a state-of-the art piece of equipment designed to disintegrate kidney stones through the use of shock waves. That gift began the province's lithotripsy program and to this day, more than 300 patients annually access this integral facet of care within our Hospital.
The Dubés are now once again supporting urological health in the province by providing an extraordinarily generous $1.4 million donation to St. Paul's Hospital Foundation for the purchase of a new lithotripter that will significantly increase the efficiency and accuracy of lithotripsy procedures.
One crucial aspect of the Dubés' vision for health care is the retaining of talented healthcare professionals in Saskatchewan. They understand that well-trained, experienced medical staff play a pivotal role in providing exceptional care to patients. Through their generous contributions to cutting-edge medical equipment and technology, they enable the healthcare system to remain competitive by recruiting top-notch talent to deliver outstanding patient care.
The Dubés' story reminds us of the power each individual possesses to make a difference, and they urge the public to support the Hospital in its efforts to help address unmet needs. They know from experience that without community partnerships, much of the innovation and many new technologies at St. Paul's Hospital wouldn't have been realized.
"It feels good to share and we're happy to do it," Leslie says. "We don't share because we have to, we share because we want to."
Newly appointed President and CEO of Emmanuel Health, Corey Miller, has seen the many impacts that Leslie and Irene Dubés' philanthropic leadership has had on the healthcare system in Saskatoon.
"The Dubés have been lifelong supporters of Catholic Health Care in Saskatchewan, both as volunteer Board members and as philanthropic leaders," he reflects.
Leslie and Irene recognize the many wonderful people working hard to make the healthcare system as effective as possible, and they want their gifts to have a positive impact on that system. They hope that their focus on filling unmet needs in their own community will serve as inspiration to others, encouraging people to share their own time, talent or funds to make a difference.
In Corey Miller's concluding words, "The Dubés' steadfast commitment to serving others in need is an inspiration and example for all frontline healthcare employees living the mission of Catholic Health Care."