Success stories thanks to you!
Every year, St. Paul's Hospital Foundation raises funds for a wide variety of innovative technologies and programs, and none of it could be possible without you, our donors. Thanks to you, we've brought many exciting projects to the Hospital and we're working on bringing many more.
Fundraising successes from 2018
Seeds of Hope for Point-of-Care Ultrasound
This spring, our Seeds of Hope campaign funded a Point-of-Care Ultrasound (PoCUS) machine for St. Paul's Hospital. This remarkable piece of equipment is used to diagnose and treat a multitude of conditions right at the patient's bedside. This means no transfers between Hospital units, no scheduled appointments, and most importantly—no waiting!
<read more>
Hospital Home Lottery
This year's Hospital Home Lotteries were a huge success! The spring lottery supported the purchase of a state-of-the-art automated pneumatic tube transport system that moves laboratory specimens, medications and blood products quickly and securely throughout St. Paul's Hospital. The fall lottery supported equipment such as a Labscan Luminex to identify gene sequences for organ and bone marrow transplant patients, a Draeger PulmoVista that provides a real-time look at the ventilation of patient lungs, and a Supine Cycle to provide leg and arm therapy for Intensive Care Unit patients.
<read more>
Ear, Nose and Throat Clinic
ENT physicians Dr. Peter Spafford, Dr. Rick Gore-Hickman and Dr. Anil Sharma.
Thanks to our generous donors, St. Paul's Hospital recently acquired new equipment that provides extraordinary care to patients whose senses have been impaired. The new Ear, Nose and Throat (ENT) Clinic is fully equipped with advanced equipment that includes microscopes, new endoscopy tools and a digital stroboscope. The centralized ENT clinic allows patients with ongoing medical concerns to see an ENT physician, a speech language pathologist and/or rehabilitation therapist in the same appointment and under the same roof — without leaving the province.
<read more>
Give and Grow
Our newest fund raising event was a lot of fun! Give and Grow is a one-day radiothon and thanks to the generosity of donors, it helped to bring an urgently needed CT Scanner to St. Paul's Hospital. Give and Grow helped us complete $1.2 million in fund raising, which the Saskatchewan Ministry of Health matched to bring the $2.4 million dollar equipment to the Hospital. The CT Scanner is used by almost every department in the Hospital and the new scanner will provide more scans for more patients in less time.
<read more>
SPH Foundation Draws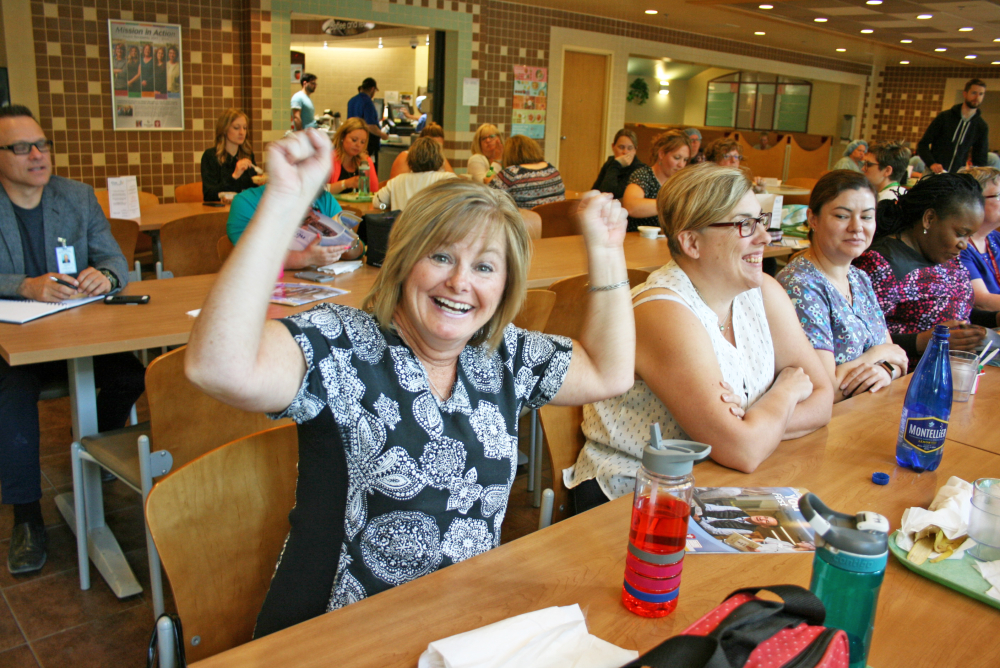 Donna Freimark was very excited to have her department's name drawn!
Each year, the St. Paul's Hospital Foundation Draws gives physicians and staff the opportunity to receive funding for programs and items that our larger fund raising initiatives do not always take into consideration. The 2018 Draws awarded $125,000 for an array of items including a digital scale, educational materials, ergonomic work chairs, lab equipment, curtain tracks, a freezer and more.
<list of winners>
GreenLight Laser
The new GreenLight Laser XPS at St. Paul's Hospital brings the latest advancements in urological care to the Leslie and Irene Dubé Urology Centre of Health at St. Paul's Hospital. This new equipment at the Hospital does much to improve patient care.
<read more>
Ongoing fundraising
Christmas Doves for Versacare beds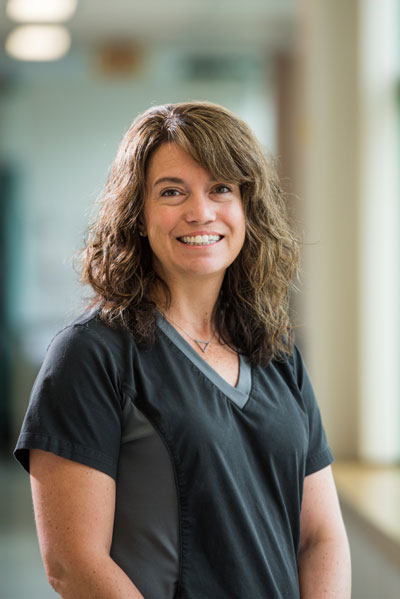 Nurse Manager Cherie Kapell Brown.
Most of us have heard of bedsores but what many don't know is that they can lead to wounds which cause pain and even deformity. Bedsores are often the culprit responsible for longer hospital stays, and decreased quality of life. That's why Nurse Manager Cherie Kapell Brown is asking for your help to purchase Versacare P500 'specialty surface' beds which prevent and heal bedsores.
<read more>
Labscan Luminex
A new Labscan 3D Luminex for St. Paul's Hospital's HLA Laboratory can have a tremendous impact on patient care. The Labscan 3D Luminex can identify a greater number of DNA markers than the current system we have available, giving healthcare providers more information about transplant options. You can help bring life-saving technology to St. Paul's Hospital.
<read more>
Draegar PulmoVista
For ventilated patients in the Intensive Care Unit (ICU), getting the settings right on the ventilator is crucial to their recovery. The Draeger PulmoVista 500 helps staff monitor patients' breathing, and has the potential to reduce and possibly even eliminate preventable harm that can come from incorrect ventilator settings. Your donation can give the gift of breath.
<read more>
Chronic Kidney Disease Patient-Oriented Research
Patients are front and center with an innovative research project to co-develop culturally appropriate teaching materials and tools for Indigenous people about the treatment options for failing kidneys. The study started in 2016, and is expected to run until Dec. 31, 2020. It's one of 14 projects organized by the Can-SOLVE CKD Network, a patient-oriented kidney research network supported in part by the Canadian Institute of Health Research.
<read more>
Healing Arts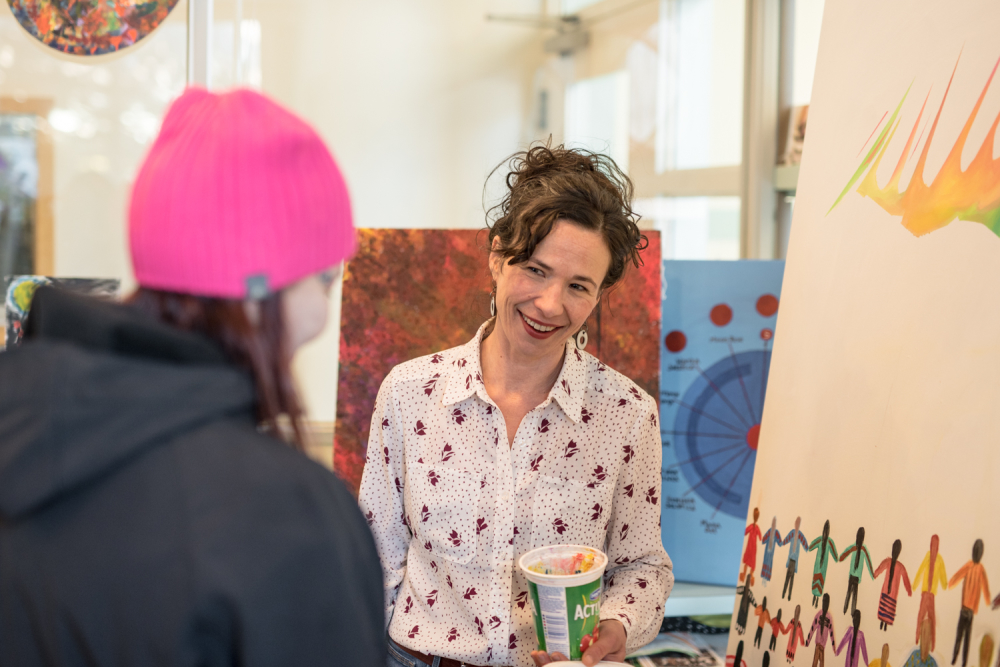 Marlessa Wesolowski is the St. Paul's Hospital Artist-in-Residence.
St. Paul's Hospital's Healing Arts program has been a part of the Hospital since 2005. The program allows healing beyond the physical well-being of a person and reaches out to heal individuals emotionally and spiritually as well. All forms of art and music are offered either by the bedside or in a common area like the Healing Arts Studio - where all are welcome to participate or simply enjoy the process and expression of art.
<read more>
Spiritual Care
When we're sick, or when a close friend or family member is ill, having someone to talk with can help us cope. Every patient admitted for an extended period of time will receive at least one visit from St. Paul's Hospital's Spiritual Care team. Whether helping someone cope with illness, accompanying a family struggling to make decisions for a loved one's care or assisting family members to make arrangements for a funeral, they are there as a spiritual resource.
<read more>