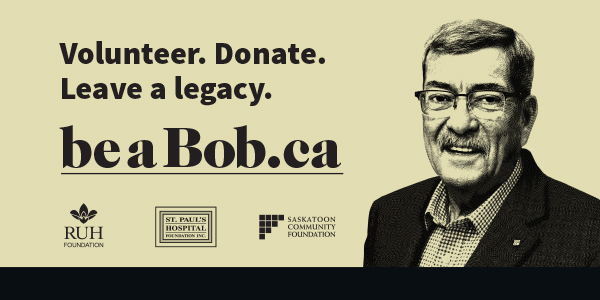 The Late Robert Steane Leaves Transformational $10 Million Estate Gift to Three Foundations in Saskatoon
(Saskatoon – Tuesday Dec 3, 2019)
In a press conference on Giving Tuesday it was announced that after a lifetime of volunteering and donating to charitable causes, the late Bob Steane was giving one last transformational gift through his estate to improve the lives of his neighbours and community. Read Full Press Release.
Bob's gift in excess of $10 million will be provided to St. Paul's Hospital Foundation, Saskatoon Community Foundation, and Royal University Hospital Foundation to promote the arts, address homelessness, accelerate trauma care, advance mental health and medical imaging and support end-of-life hospice care.
"As per his wishes, St. Paul's Hospital Foundation will ensure the funds continue to advance end-of-life care in our community," said SPH Foundation CEO Lecina Hicke.
In his last few years, Bob created a philanthropic legacy in his home city of Saskatoon through donating to many organizations, volunteering in his community, and now, leaving a gift in his will. And through it all, he has reminded each of us to do what we can to make a difference.
To honour Bob and his hope that his commitment to Saskatoon would inspire others to give, we are launching the "Be a Bob" Awareness Campaign on Giving Tuesday.
Bob was a volunteer and donor his whole life.
He gave one last gift that will improve lives across his community.
You can too.
You can "Be a Bob" by making a donation, volunteering in your community, or consider including a charity in your estate plans.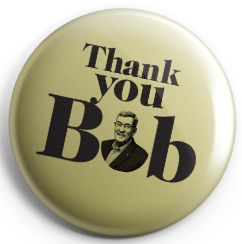 To make a donation to St. Paul's Hospital Foundation – Click here to Donate Online. You can also stop by our office at 1702 20th Street West or simply call us at 306.655.5821.
Volunteer
To volunteer at St. Paul's Hospital Foundation, contact Michelle Neufeld, Manager of Annual Giving at 306.655.5835 or Michelle.Neufeld@sphfoundation.org.
If you would like to make a Planned Gift, contact Pamela Hujber, Manager of Major Giving at 306.655.5832 or Pamela.Hujber@sphfoundation.org.
Learn more about the ways to make a planned gift by clicking here.
---
A Significant Donation to the Close to Home Campaign

In addition to this tremendous legacy gift on Giving Tuesday, just five months earlier on June 18, 2019, Robert Steane gave an astounding $1 million dollars to St. Paul's Hospital Foundation to support the Close to Home Campaign for Hospice and End-of-life Care.
At the press conference announcing his gift, Bob said his greatest wish would be to inspire others to give: "What good is wealth if you don't do something with it? I'm just happy and fortunate I'm in a position to do something like that."
Read more about Bob's gift to the Close to Home Campaign.

---
Robert "Bob" Steane – The Passing of An Inspirational Force in Our Community

To our great sadness, Bob Steane passed away on July 30, 2019 after 69 years of leadership in industry and in life- a cherished member of our community.
There wasn't much that Bob couldn't do and it was his determination and curiosity that allowed him to develop an impressive array of talents.
Bob was born in Tanzania in a mining family. The Steane family emigrated to Canada in 1953. Bob loved every minute of his mining career, working in Papua New Guinea, Namibia and Australia before being enticed to a start-up operation at the Key Lake Minestite in Northern Saskatchewn in 1983. This was the beginning of a life-long career of 34 years with Cameco.
Saskatoon and Saskatchewan became Bob's final home where he created a philanthropic legacy by serving on the board of and donating to the Royal University Hospital Foundation, as well as generously donating to St. Paul's Hospital Foundation, Saskatoon Community Foundation, Persephone Theatre, Shakespears on the Saskatchewan and other organizations too numerous to mention.
Bob also devoted his time by volunteering at the Lighthouse, the Friendship Inn and participating in United Way Fundraisers, both in Saskatoon and in Port Hope.
"Bob was an inspiration to all of us, and his generosity as an exceptional volunteer and dedicated donor in no small way transformed our community," said SPH Foundation CEO Lecina Hicke.
Thank You Bob. We miss you. God Bless you.