Mission Office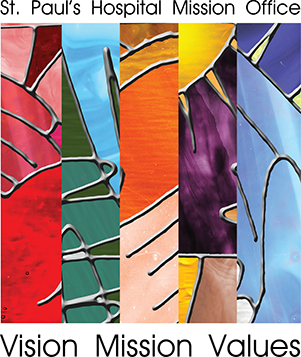 Building Relationships to Support Holistic and Compassionate Care
At St. Paul's Hospital, we believe people do their best work when we are motivated by what we care about the most, especially if we experience ourselves to be part of a community of people who are impassioned by shared values.
The Mission Office knows people who work at St. Paul's are compassionate, respectful, holistic, and collaborative people, willing to do as much as possible even with limited resources, for the good of our patients. Employees, patients, and members of the community share in our own time the spirit that motivated St. Marguerite d'Youville and the Grey Nuns who founded St. Paul's. The Mission Office seeks to foster this spirit through awareness of these shared values, celebration of the goodness that abounds, and the practical assistance of resources and programs. Together with our partners and neighbors, we celebrate our vision: "A Community of Health, Hope, and Compassion for All".
Click "The Spirit of St. Paul's" to hear what some of our staff members have to say about who we are.
Mission Office Programs

Mission Office Publications
SPH Internal Phone Directory – This Phone Director is for use by Employees and Departments. Please contact Mission Office for a copy of the Internal Phone Directory.
Contact Mission Office
Mission Office is located in the B Wing of St. Paul's Hospital, 1702 - 20th St West, Saskatoon, Saskatchewan S7M 0Z9.